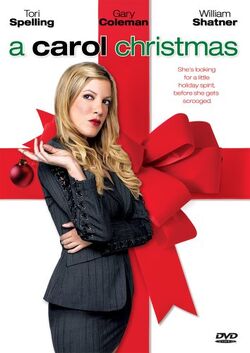 A Carol Christmas is a TV movie starring Tori Spelling. It premiered on the Hallmark Channel on December 7, 2003. The film is an adaptation of the Charles Dickens story of a similar name. As of 2009, it is shown in the 25 Days of Christmas programming block on ABC Family but has recently been shown back on the Hallmark Channel again for the 2011 holiday season.
Synopsis
Tori Spelling plays Carol Cartman, a conceited sensationalist talk show host. She is cynical, selfish, and generally treats her employees with cold contempt. She has been molded this way by her late Aunt Marla (Dinah Manoff). On Christmas Eve, she is haunted by her Aunt who warns her of the mistake she made and the terrible fate awaiting her if she doesn't change. In the tradition of the original story, she is visited by the Ghosts of Christmas Past, Present, and Yet To Come, and is shown how she will die alone and unloved if she doesn't change. At the end, she becomes a warm, caring person vowing to make amends. She goes on to her television show and makes a touching speech to her audience about the importance of Christmas and giving.
Availability
The film was made available on DVD on December 8, 2005.
Cast
External links
Community content is available under
CC-BY-SA
unless otherwise noted.