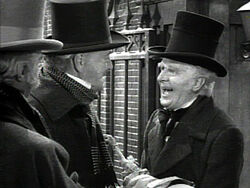 A Christmas Carol is a 1938 MGM picture adaptation of the novel of the same name by Charles Dickens.
Synopsis
On Christmas Eve, an old miser named Ebenezer Scrooge is visited by the spirit of his former partner, Jacob Marley. The deceased partner was in his lifetime as mean and miserly as Scrooge is now and he warns him to change his ways or face the consequences in the afterlife.
Scrooge dismisses the apparition but the first of the three spirts, the spirit of Christmas Past, visits as promised. Scrooge sees those events in his past life, both happy and sad, that forged his character. The second spirit, the spirit of Christmas Present, shows him how many currently celebrate Christmas. The spirit of Christmas yet to Come shows him how he will be remembered once he is gone.
To his delight, the spirits complete their visits in one night giving him the opportunity to mend his ways.
Availability
In 1988, MGM/UA Home Video and Turner Entertainment released A Christmas Carol on VHS to celebrate its 50th anniversary, for the first time in a colorized version, and later on Laserdisc in 1990. The colorized version was released on VHS again by Warner Home Video in 2000. The original black-and-white version was released on DVD on November 8, 2005. It was also featured in a "Classic Holiday Collection" box set alongside Boys Town and Christmas in Connecticut, released on the same day. A Blu-ray release came out on November 11, 2014.
Cast
External links
Community content is available under
CC-BY-SA
unless otherwise noted.