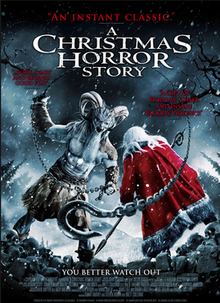 A Christmas Horror Story is a 2015 anthology horror film directed by Grant Harvey, Steven Hoban, and Brett Sullivan. It premiered on July 20, 2015 at the Fantasia International Film Festival and had a limited theatrical release on October 2, 2015, along with a VOD release. The film is a series of interwoven stories tied together by a framework story featuring William Shatner as a radio DJ.
Plot
Dangerous Dan (William Shatner) is an alcoholic radio DJ stuck pulling a long shift at the Bailey Downs radio station during Christmas. During his broadcast, he keeps receiving notices of a disturbance at the local mall, telling his listeners to stay away. Dan keeps playing his music while a series of four stories are witnessed.
Cast
William Shatner as DJ Dangerous Dan
George Buza as Santa Claus/Norman
Rob Archer as Krampus
Zoé De Grand Maison as Molly Simon
Alex Ozerov as Ben
Shannon Kook as Dylan
Amy Forsyth as Caprice Bauer
Jeff Clark as Taylor
Michelle Nolden as Diane Bauer
Adrian Holmes as Scott
Oluniké Adeliyi as Kim Peters
Orion John as Will
A.C. Peterson as Big Earl
Percy Hynes White as Duncan
Corinne Conley as Aunt Edda
Julian Richings as Gerhardt
Debra McCabe as Marta Claus
Joe Silvaggio as Jingles, Changeling
Damir Andre as Principal Herod
Jessica Clement as Grace
Ken Hall as Shiny Elf
Korina Rothery as Sparkles Elf
Jonathan H. Caines as Wire Elf
Brad Bennett as Chomping Elf
Paige Moyles as Sobbing Teen
Glen Gaston as Middle-Age Man
Eric Woolfe as Foreman Elf
Community content is available under
CC-BY-SA
unless otherwise noted.