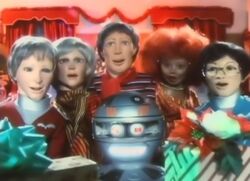 "A Christmas Miracle" is the Christmas episode of ITV/Gerry Anderson's puppet series Terrahawks, produced as the seventh episode of its second season.
Summary
It's Christmas Eve, but neither Ninestein nor Zelda have time for festivities, as they are busy planning their strategies for their battle on the moon, which will begin in ernest on Christmas Day.
Cast
Voice actor/actress
Character(s)
Jeremy Hitchen
Dr. 'Tiger' Ninestein
Lt. Hiro
Colonel Johnson
It-Star (Male)
Sram
Moid
Lord Tempo
Chick King
Denise Bryer
Mary Falconer
Zelda
Anne Ridler
Kate Kestrel
Cy-Star
It-Star (Female)
Robbie Stevens
Hawkeye
Space Sergeant 101
Yung-Star
HUDSON
Dix-Huit
Stew Dapples
Five-Five
Windsor Davies
Sergeant Major Zero
External link
Community content is available under
CC-BY-SA
unless otherwise noted.