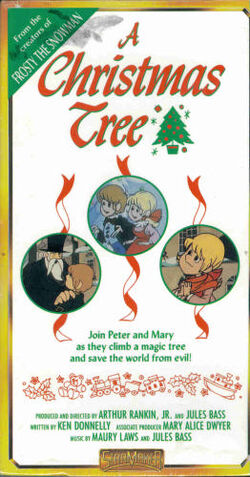 "A Christmas Tree" is a Christmas episode of Rankin/Bass' short-lived animated syndication series Festival of Family Classics, produced and aired as the eleventh episode of its duration. As the title suggests, it is based on the story by Charles Dickens.
Summary
Two kids named Mary and Peter are being told stories of Christmas in the old days by Dickens. Suddenly their Christmas tree grows like Jack's beanstalk right through the roof. Peter Piper appears with the news that Horatio the giant has stolen the essence of Christmas and he needs their help to get it back.
Cast
Voice actor/actress
Character
Carl Banas
Len Birman
Barnard Cowan
Peg Dixon
Keith Hampshire
Peggi Loder
Donna Miller
Mary
Frank Perry
Henry Ramer
Billie Mae Richards
Peter
Alfie Scopp
Paul Soles
External link
Community content is available under
CC-BY-SA
unless otherwise noted.