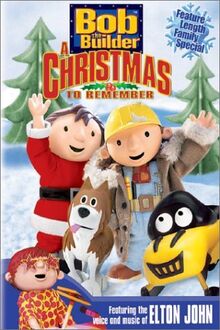 A Christmas to Remember is a special Christmas episode of Bob the Builder.
Summary
Bob the Builder's first full-length adventure, A Christmas to Remember, is a festive extravaganza boasting an all-star cast, including Elton John and Noddy Holder. Bob's twin brother, Tom, a zoologist, (voiced by Stephen Tompkinson) is coming home from the Arctic for the festivities for the first time in years, and Bob's planning the perfect Christmas.
But there are so many things to do first and Bob will have to work his little yellow hard hat off if he's to get everything done in time: there's the tree to fetch, the lights to put up in the town square, not to mention the stage to build for Lennie and the Lazers' concert on Christmas Eve.
Fortunately, Bob has all his usual friends to help as well as an extra pair of hands in the form of the loveable Banger (Noddy Holder), roadie to the band.
Unfortunately, things don't go according to plan, and whilst Bob tries to sort out the mess, bad news comes that Tom has been unavoidably delayed. it begins to look as though Bob won't be having a perfect Christmas after all...
Meanwhile, all is not well within the band: Lennie (Chris Evans) is losing his voice and John (Elton John) is having trouble finishing his new song. Luckily, Roley is on hand to help the creative process along and even suggests a jazzier stage name when it seems that John will have to sing in Lennie's place at the gig.
Also, Spud the Scarecrow is trying to be good so Santa will give him presents, but having him help is just asking for trouble.
Will the job get done?
This page about a Christmas movie is a stub. Please help The Christmas Special Wiki by expanding this article.
Community content is available under
CC-BY-SA
unless otherwise noted.