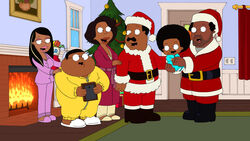 "A Cleveland Brown Christmas" (originally titled "It's a Wonderful Lie") is the first Christmas-themed episode of the animated series The Cleveland Show.
Synopsis
SPOILER:
Plot details or story follow.
Cleveland and the family go to pick out a Christmas tree at Lester's lot. Cleveland has his eye on a nice large tree but Rallo insists on a smaller tree. Cleveland finds out that Donna and the family have been lying to Rallo, telling him the reason Robert can't come around during the holidays is that he is an FBI agent. When Cleveland fills in as Santa Claus at his office holiday party, he has one too many egg nogs and lets the truth slip about Rallo's father. Rallo fails to connect that it was Cleveland posing as Santa and takes out his hostility on figures of Santa. With Rallo's admiration for his dad destroyed, Cleveland tries to reconnect father and son in an attempt to save Rallo's Christmas spirit. He finds Robert at SKANXXX a strip club. Robert doesn't care at first but later has a change of heart. He shows up at the house dressed as Santa and tells Rallo another lie...he hasn't been around because he is the real Santa, making Rallo's Christmas a happy one.
Meanwhile, Roberta becomes an animal rights activist and tries to save a reindeer. When she sets it free, it goes on a rampage.
Cast
Songs
Trivia
See Also
External Links
20th Century Studios
Television episodes and specials
Animated shows and specials
The Simpsons
"Simpson Christmas" • "Simpsons Roasting on an Open Fire" • "Marge Be Not Proud" • "Miracle on Evergreen Terrace" • "Grift of the Magi" • "Skinner's Sense of Snow" • "She of Little Faith" • "'Tis the Fifteenth Season" • "Simpson Christmas Stories" • "Kill Gil, Volumes I & II" • "The Fight Before Christmas" • "Holidays of Future Passed" • "White Christmas Blues" • "I Won't Be Home for Christmas • "The Nightmare After Krustmas" • "'Tis the 30th Season" • "Bobby, It's Cold Outside" • "The Way of The Dog" • "A Springfield Summer Christmas for Christmas"
King of the Hill
"The Unbearable Blindness of Laying" • "Pretty, Pretty Dresses" • "Hillennium" • "'Twas the Nut Before Christmas" • "The Father, the Son, and J.C." • "Livin' on Reds, Vitamin C and Propane" • "Ms. Wakefield"
Family Guy, American Dad!, and The Cleveland Show
"A Very Special Family Guy Freakin' Christmas" • "The Best Christmas Story Never" • "The Most Adequate Christmas Ever" • "Rapture's Delight" • "A Cleveland Brown Christmas" • "Road to the North Pole" • "For Whom the Sleigh Bell Tolls" • "Murray Christmas" • "Season's Beatings" • "Die Semi-Hard" • "Jesus, Mary and Joseph!" • "'Tis the Cleveland To Be Sorry" • "Minstrel Krampus" • "Christmas Guy" • "Dreaming of a White Porsche Christmas" • "The 2000-Year-Old Virgin" • "How the Griffin Stole Christmas" • "Ninety North, Zero West" • "Don't Be a Dickens At Christmas" • "Santa, Schmanta" • "Christmas is Coming" • "Yule. Tide. Repeat." • "The First No L"
Futurama
"Xmas Story" • "A Tale of Two Santas" • "The Futurama Holiday Spectacular"
Bob's Burgers
"God Rest Ye Merry Gentle-Mannequins" • "Christmas in the Car" • "Father of the Bob" • "Nice-Capades" • "The Last Gingerbread House on the Left" • "The Bleakening" • "Better Off Sled" • "Have Yourself a Maily Linda Christmas" • "Yachty or Nice"
Other cartoons
"Hook's Christmas" • "A Christmas Surprise for Mrs. Stillman" • Olive, the Other Reindeer • Ice Age: A Mammoth Christmas • "The War on Grafelnik" • "Miracle on Culpepper Slims Boulevard"
Community content is available under
CC-BY-SA
unless otherwise noted.