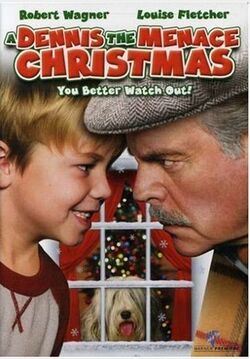 A Dennis the Menace Christmas is a 2007 direct-to-video movie starring Robert Wagner and Louise Fletcher, based on the comic strip Dennis the Menace by Hank Ketcham. The plot is based on Charles Dickens's A Christmas Carol. It is a Christmas-themed sequel to the (non-Christmas) films Dennis the Menace and Dennis the Menace Strikes Again, which is developed by John Hughes, who is credited in the former feature.
Synopsis
This page about a Christmas special or an episode from a television series with a Christmas theme is in need of a longer synopsis. You can help the Christmas Special Wiki by expanding this synopsis.
Dennis tries to inject his grinchy neighbor, Mr. Wilson, with the holiday spirit, with the help of an Angel of Christmas Past, Present, and Future.
Music
Songs
Cast
Actor/actress
Character(s)
Maxwell Perry Cotton
Dennis Mitchell (young)
Richard Notkin
Dennis Mitchell (old)
Robert Wagner
George Wilson
Louise Fletcher
Martha Wilson
Isaac Durnford
Jack Bratcher
Kim Schraner
Alice Mitchell
George Newbern
Henry Mitchell
Jake Beale
Joey
China Anne McClain
Margaret
Heidi Hayes
Gina
Marie Matiko
Mrs. Walsh-Mellman
Jack Noseworthy
David Bratcher
Richard M. Dumont
Mr. Peeves
Godfrey
Santa
Bob the Angel
Ray 'Guido' Cocomello
Neighbor
Michael Lerner
Mr. Souse
Jane Gilchrist
Stuffy Woman
Russell Yuen
Police Officer Wong
Donny Falsetti (uncredited)
Officer #2
Elliott Larson
Georgie
Walter Massey
Wilbur Newman
Matthew Comeau
Mason Cotton (uncredited)
Futuristic Boys
External links
Community content is available under
CC-BY-SA
unless otherwise noted.