"A Dog for All Seasons" is the first Christmas-themed episode of the Disney animated television series Teacher's Pet, originally aired on Disney's One Saturday Morning as the eleventh episode of the show's first season.
Synopsis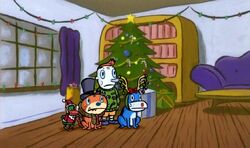 Mrs. Helperman decides to write a play incorporating all of her students' holiday and religious traditions, but finds it more difficult than she had envisioned. Meanwhile, Spot tries to find out if dogs themselves have any holiday traditions, so God sends an angel dog to take him on a vision quest.
Songs
Voice cast
See also
External links
This page about a Christmas special or an episode from a television series with a Christmas theme is a stub. Please help the Christmas Special Wiki by expanding this article.