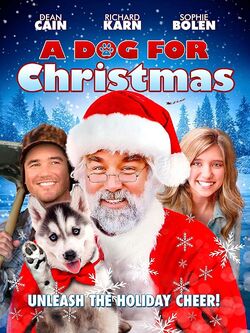 A Dog for Christmas is the local 2015 movie that is acquired in 2019 by Green Apple Entertainment.
Summary
The entire family stays at Dave and Sandy's home for the holidays. Kassandra wants a puppy for Christmas, but Mom and Dad aren't ready for that. Will Santa grant Kassandra's only wish for Christmas?
Cast
Actor(s)/actress(es)
Character(s)
Dean Cain
Earl
Richard Karn
Santa
Dustin Diamond
Fred
Hugh Gall
Dave Madison
Janet Caine
Sandy Madison
Sophie Bolen
Kasandra Madison
Derek Brandon
Brandon
Joseph Scott Anthony
Daryl
Mark Boyd
Matt
Keith Seccombe
Wesley
Brian Titus
Ben
Kristin Mellian
Rachel
Paul Tierney
Dominik Peplinski
Dominik
Riley Snider
Earl's Son
Gabrielle Snider
Gabby
Rachel White
Tom Kruszewski
College Hockey Guy
Joshua Bell
Aggravated Patron
Kim Crozier
Anna
Linda L. Douglas
Marsha
Glenn Alverson
Office Boss
William Babbit, Jr.
Dad (walking with daughter)
Caitlin Babbitt
Girl (walking with dad)
Jay J. Bidwell
Belching Party Guest
Dana Blackstone
Susannah
Dylan Brandon
Cousin
Carrie Foster
Neighbor #2
Elizabeth Foster
Herself
Emily Foster
Neighbor #3
Mark R. Foster
Husband in Bumping Car
Paula Marie Fournier
Woman in Bumping Car
Joe Goode
Waiter #1
Kim Harris
Parent
Laura Henderson
Cashier
Brandon Hoezee
Young Office Guy
Zachary Hunt
Zach
Jennifer Jelsema
Hostess
Dane Kieninger
Dane
Teri Lee
Carol
John McDevitt III
College kid #3
Rose Anne Nepa
Christmas Party Attendee
Schuyler Norton
Wesley's Son
Kathleen Overfield
Woman
(Earl cuts in front of at grocery store)
Randall Perry
Neighbor #1
Dominik Rossin
Jeffrey
Jettzen Shea
Kyle
Jeff Sicile
Pedestrian
Ethan Slavin
Cousin
Julia Smith
Girl at skating rink
Michael Szczepanink
Jumbo Loan Guy
Mishell Szczepanink
Office Party Kim
Jason M. Varso
Mark
Uncredited
Tiffany Burns
Market Shopper
Ice Skater
Work Christmas Party Goer
Patricia Cissell
Diner patron
Harrison Flechsig
College Hockey Guy
Brandon Lang
Party Guest
Linda Linsley
Christmas Office Party guest
Allison Mooney
Pedestrian
Baylie Mooney
Pedestrian
External link
This page about a Christmas movie is a stub. Please help The Christmas Special Wiki by expanding this article.
Community content is available under
CC-BY-SA
unless otherwise noted.