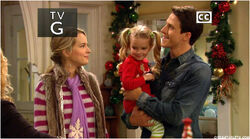 "A Duncan Christmas" is the Christmas episode of the Disney Channel sitcom Good Luck Charlie, aired in the show's third season, and its second Christmas production (following the movie Good Luck Charlie, It's Christmas!).
Synopsis
It's Christmas Eve in the Duncan household, and also Toby's first Christmas. But, with them, not everything goes to plan:
Teddy takes Charlie to get her first photo with Santa Claus at Super Christmas Land, but when he decides to take a break right when it's her turn, Teddy take matters into her own hands...and is arrested for bowling over Santa.
Meanwhile, Bob's mother, Linda, turns up for the holidays and bickers with Amy as they both want to sing "Deck the Halls" at the Duncan Family Christmas Eve talent show.
Also, Bob frets over what present to buy for Amy as they've made a pact not to spend much on each other's presents and he never knows what it means. He enlists Gabe and P.J.'s help.
Songs
See also
This page about a Christmas special or an episode from a television series with a Christmas theme is a stub. Please help the Christmas Special Wiki by expanding this article.