Wiki Targeted (Entertainment)
Play Sound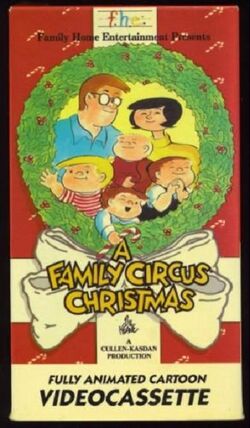 A Family Circus Christmas is a 1979 animated NBC special based on Bil Keane's long-running syndicated comic strip The Family Circus. Produced by Edward F. Cullen and associate produced by Saul Kasdan, it premiered on December 18, 1979. It followed 1978's A Special Valentine with the Family Circus and was followed in 1982 by A Family Circus Easter. Its theme song, "The Dreamer", was sung by Sarah Vaughn.
Synopsis
The family is decorating their tree when Daddy notices the star his father made is missing. When Billy asks Mommy why this upset Daddy, she explains that that when his father was about Jeffy's age, his father made the star, and now that Granddad is deceased it reminds Daddy of this. Jeffy then has a vivid dream about Santa, and asks him in the dream to bring Granddad home from Heaven for Christmas to make Daddy happy again. When Billy learns that Jeffy believes this for real, he is afraid that Jeffy's Christmas will be ruined, since Santa can't do that.
When at a department store, Jeffy asks Santa to reunite him with his deceased grandfather. The mall Santa warns that he ignores greedy children, to which Jeffy says he will forsake any other presents if his grandfather is taken from Heaven. The mall Santa, having failed to dissuade Jeffy, simply shakes his head.
Dolly is also worried about this and tells her mother. Mommy tries to have a talk with Jeffy explaining that God segregates the dead from the living and that Daddy has to deal with the loss of his father by himself. Jeffy gets upset, thinking this was all in vain, and does not want to hear any more about this. That night, he is visited by the real Santa Claus, who explains that some aspects of this world are not possible and that his mother and siblings were trying to point that out. However, Santa is happy that Jeffy showed Christmas spirit by thinking about his father and not himself. To reward Jeffy for his well-meaning attitude and thoughtful gesture, Granddad is briefly recalled from death to posthumously meet his grandson and wish Jeffy a Merry Christmas.
Cast
External links