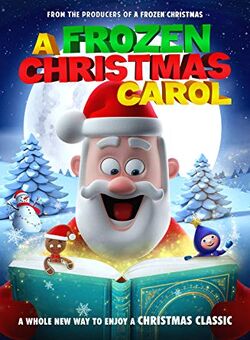 A Frozen Christmas Carol is the 2018 Christmas movie, and the second spin-off of WowNow Entertainment's A Frozen Christmas franchise. At 213 minutes (3 hours, 32 minutes and 37 seconds) , it's the longest Christmas movie/virtual snowglobe display ever conceived for DVD. The main (and only) Christmas story is the retelling of A Christmas Carol by Charles Dickens.
Program
The silent version of the WowNow Entertainment logo starts the movie.
Introduction
The segment begins where Santa Claus and his reindeer companion Barnaby is flying on Santa's sleigh (based on the same plot device of the previous installment), on the way back home to the North Pole to celebrate with Christmas Santa's little helpers: the elves, his dear buddy: The Gingerbread Man, and Mrs. Claus too. Barnaby suggests to listen to Christmas stories to warm the hearts and kindle our spirits to get through the heavy weather conditions. Santa agrees with Barnaby and tells the audience to settle and grab the antlers as the sleigh is off to the North Pole. The movie's main title sequence plays afterwards.
A Christmas Carol
For almost the entire length (3 hours, 30 minutes and 7 seconds), the male narrator reads the entire story of A Christmas Carol by Charles Dickens, while the huge array of Christmas display shown onscreen. After the narrator ended the story, the movie's main title sequence plays again to end it without the credits whatsoever
Trivia
This movie marks the second entry in WowNow's Once Upon a Tale Entertainment label, but while the print logo is used on the DVD cover and on the disc artwork, the WowNow Entertainment logo is used onscreen.
There are no credits whatsoever in this feature. This is the first time WowNow didn't include them.
Recently, as of 2018, WowNow Entertainment surpassed this movie length with The Greatest Adventure: "The Book of Dragons", which had its length of 244 minutes.
See Also
External link
Community content is available under
CC-BY-SA
unless otherwise noted.