A Godwink Christmas is a Hallmark Movies and Mysteries Original Movie that premiered on November 18, 2018, as part of Hallmark Channel's annual Countdown to Christmas event.
Summary
As Christmas approaches, Paula, a St. Louis antique appraiser, reluctantly accepts a marriage proposal from her boyfriend, Daniel, a career-focused attorney. When her Aunt Jane senses she has mixed emotions over the engagement, she invites Paula to her Nantucket home. Upon her arrival, Paula plans a trip to the nearby island of Martha's Vineyard where she meets Gery, a charming inn owner. When bad weather prevents her from departing, Paula winds up staying at Gery's inn and enjoying local holiday festivities alongside him. They begin to have feelings for each other but when the weather clears up, they part ways and Paula returns to Nantucket. Sensing she has fallen for Gery, Aunt Jane shares with Paula her belief that their meeting was God's way of "winking" at her to help determine which direction her life should take. When Daniel surprises her by spontaneously arriving in Nantucket, Paula decides to move forward with their marriage plans. But back in St. Louis, Daniel soon returns to his all-business ways and a fed-up Paula finally realizes they are not compatible. When Jane invites her back to Nantucket for Christmas, Paula accepts, unaware that Jane has devised a plan to bring her and Gery together.
Availability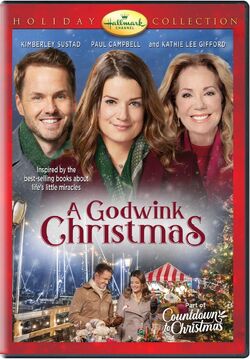 The movie will be released on DVD on November 5, 2019.
Cast
| Actress/actor | Character |
| --- | --- |
| Kimberley Sustad | Paula Mayer |
| Paul Campbell | Gery Conover |
| Kathie Lee Gifford | Aunt Jane |
| Giles Panton | Daniel O'Brian |
| Ryan McDonald | Buddy Bambrick |
| Dolores Drake | Dorothy Keller |
| Natalie Sharp | Jenn O'Brian |
| Lucia Walters | Susanna Berry |
| Jag Bal | Kenny Singer |
| Kelly Nelson | Robert O'Brian |
| Lucia Frangione | Catherine O'Brian |
| Grace Sunar | Katie Warren |
| Kat Ruston | Betsy Warren |
| Talana Madu | Airport passenger |
External links
Community content is available under
CC-BY-SA
unless otherwise noted.