"A Solstice Carol" is the Christmas episode of the syndicated television series Xena: Warrior Princess, aired in the show's second season. As the title suggests, it is loosely based on Charles Dickens' classic story A Christmas Carol.
Synopsis
Xena and Gabrielle arrive in a kingdom where celebrating the Solstice is forbidden. Xena devises a plan to stop King Silvus from closing an orphanage. He is visited by three ghosts, who show him the error of his wicked ways.
Cast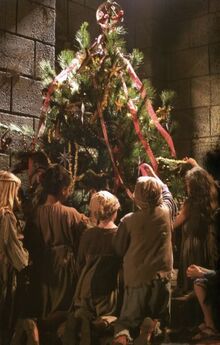 Lucy Lawless as Xena
Renée O'Connor as Gabrielle
Peter Vere-Jones as King Silvus
Sher Booth as Melana
John Berryman as Senticles
External links
Community content is available under
CC-BY-SA
unless otherwise noted.