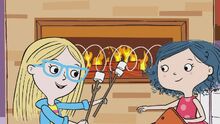 A Song For Everyone is the Christmas episode of Dot. that debuted on Universal Kids (when it was Sprout) on December 6, 2016.
Plot
After Dot sings a Hanukkah song with her mom and a Christmas song with her dad, she encounters her music teacher Ms. Randi who reminds her about the upcoming holiday concert. Dot agrees to be Song Leader to help her write a new song for the kids' choir, of which Hal and Ruby are also a member. When Mr. C reminds Dot that some people celebrate other holidays like Kwanzaa or Solstice or nothing at all, she decides to do a "Christma-festi-kwanzikkuh" song about all the holidays. Hal suggests the inclusion of bells because he sings Jingle Bells with his family while caroling. Ruby suggests fire as it sets the mood for her reading of Twas the Night Before Christmas, which she reads every year. Nev and Dev make gingerbread houses for each other. Nana likes Christmas crafts, and Mr. Sherman likes taking his blonde grandkids to see Santa. Dot's grandpa likes to play dreidel with his friend Hershel. Piano, recorder and tambourine are used while Nev, Dev and Dot sing arpeggio. The community center gets snowed in, so they invite friends from the block to the C house, and broadcast the song via camera online. At the end of their song, they say "Merry Christmas," "Happy Hanukkah," and "Joyous Kwanzaa" to them.
Community content is available under
CC-BY-SA
unless otherwise noted.