"A Space Ghost Christmas" is a special Christmas episode of the Cartoon Network original show Space Ghost Coast to Coast. When aired on television, it was interspersed with the show's previous episodes ("Bobcat", "Batmantis", and "Gum, Disease"), all of which are segued into during the special.
Plot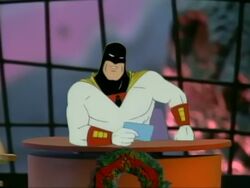 Space Ghost, Zorak, Moltar, and the Council of Doom unite for the festive season with altered variations of Christmas classics.
Cast
Voice actor
Character
George Lowes
Space Ghost
C. Martin Croker
Zorak
Moltar
Don Kennedy
Announcer
Tasnut
Andy Merrill
Brak
Lokar
Tanya Bergan
Black Widow
Michael Tew
Metallus
External links
This page about a Christmas special or an episode from a television series with a Christmas theme is a stub. Please help the Christmas Special Wiki by expanding this article.
Community content is available under
CC-BY-SA
unless otherwise noted.