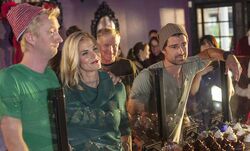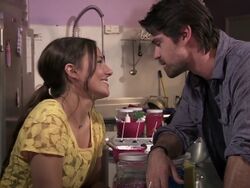 A Star for Christmas is a Ion Television original movie, presented and distributed worldwide by MarVista Entertainment, that premiered on December 2, 2012.
Summary
After Cassie's recent break-up with her boyfriend, her personal life gets put on hold when a big-time Hollywood movie starts shooting in her sleepy small town. Jammed with cupcake orders, the last person Cassie expects to meet is a man who sweeps her off her feet, Alex. But Cassie is taken aback when she discovers Alex's true identity… he's the star of the Hollywood movie! Now, Alex's beautiful celebrity ex rolls into town. Can Cassie survive the Christmas season and sort out her feelings before the movie wraps and Alex is gone forever?
Cast
Actress/actor
Character
Briana Evigan
Cassie
Corey Sevier
Alex
Karissa Vacker
Tricia
Jeremy Howard
Zack
Travis Van Winkle
Jared
Brooke Burns
Skylar
Sean Stone
Nolan Denver
Denver Dowridge
1st AD
Coley Feifer
Bratty Kid
Alexis Baumert
Little Girl
Shirell Ferguson-Coleman
Monique
Shelby Janes
Ms. Dailey
Mike Korich
Panicked Paparazzi
Keith Dobbins
Santa Claus
Fraisia Logan
Customer
Paul White
Donut Eating Crew Member
Kelly Herrin
Delivery Man
William Bolton
Caroler #1
Caia Coley
Dena
Chewy (Dog)
Gonzo
Cara-Lynn Branch
Julie Cook
Sean McGee
Tommy Bettis
Nevan Stewart
Laurance Goodhue
Steve Freudenberg
Anny Anny
Xenia Barroso
Christian Tolbert
Lotta Sudminer
Brittanyann Hewitt
Amit Oringer
Ashley Layne
Roziya Damenova
Duncan & Debra Dye
Eric Gardner
Sarah Ghonelm
J Arthur & Pamela Coley
Valerie Humbard
Maria Kishchenko
Cassie Estelle
Background Cast
Paolo Arriola (uncredited)
Gaffer
Michael Feifer (uncredited)
Paparazzi
External links
Community content is available under
CC-BY-SA
unless otherwise noted.