Wiki Targeted (Entertainment)
Play Sound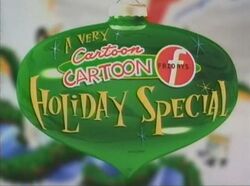 A Very Cartoon Cartoon Fridays Holiday Special was a special holiday-themed edition of Cartoon Network's weekly programming block Cartoon Cartoon Fridays. It was originally broadcast on December 22, 2000, and was later re-aired in July 2001 and again on December 21, 2001. In-between each of the shows broadcast, the following segments were presented, in which the characters from the block's shows act out scenes from classic Christmas productions.
Segments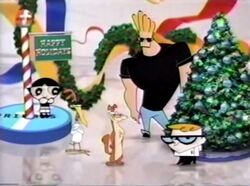 The opening segment features I.M. Weasel from I Am Weasel welcoming the viewer to Cartoon Cartoon Friday's Christmas special, accompanied by Buttercup from The Powerpuff Girls, Chicken from Cow & Chicken, Johnny Bravo, and Dexter from Dexter's Laboratory. When Johnny asks "What do we know about doin' a holiday special?", Chicken responds that they could "just play that Pac-Man Christmas thing", but Dexter says the network is showing it next week. "Now what do we do?" Chicken asks, to which Weasel responds by saying they'll have to come up with something themselves.
Eustace Bagge from Courage the Cowardly Dog is shown acting as Ebenezer Scrooge at the end of A Christmas Carol, with Ed from Ed, Edd n Eddy as Tiny Tim ("Whose idea was it to make this big lummox Tiny Tim anyway?!").
The Mayor of Townsville from The Powerpuff Girls, dressed like Sam the Snowman, sings a ditty called "Pewter and Bronze", and then complains to Chicken that he is having a hard time moving around in his costume.
Johnny shows Dexter and Chicken his impression of Hermey the elf.
Johnny, Bubbles, Blossom, Courage, Sheep, Chicken, Ed, Edd, and Eddy look to the sky, whistling to the tune of "Hark! The Herald Angels Sing" (mimicking the closing scene from A Charlie Brown Christmas).
Buttercup, Ed, Chicken, Courage, Sheep, Johnny, and Dexter mimic the dancing scene from A Charlie Brown Christmas.
The Mayor, Dexter, Chicken, Ed, Johnny, Buttercup, and Ms. Bellum all gather together to sing to the tune of "Welcome Christmas" from How the Grinch Stole Christmas!
In a parody of a scene from A Christmas Story, Dexter dares Johnny "to the 86th power" to stick his tongue on the TV monitors behind them, because Johnny thinks his tongue will not stick to them. Dexter gloats when he sees that Johnny's tongue does indeed get stuck to the monitors. Johnny cries for help, but Chicken walks off, saying "the bell rang."
At the end of the broadcast, the Mayor asks everyone if they had a good time. Chicken complains that he did not get the BB gun that he wanted, to which everyone replies, "You'll shoot your eye out!" The characters say they wish for peace on earth and goodwill towards everyone and wish the viewers happy holidays as the broadcast ends.
Cast
Community content is available under
CC-BY-SA
unless otherwise noted.