"A Very Casagrandes Christmas" is a special half-hour Christmas episode of the Nickelodeon animated series The Casagrandes, the spin-off of The Loud House. It is the sixth episode produced for the show's second season (though it was the season's second episode to air).
Synopsis
It is Christmas Eve in Great Lakes City, and for the Santiagos and Casagrandes, it's the last night of Las Posadas. Bobby and especially Ronnie Anne are looking forward to this Nochebuena as it is their first since their father, Arturo, came to live near them in the city. In the apartment, we see the rest of the Casagrande family making their final preparations for the evening, including Carlota making papel picado decorations, Carl making a piñata (which he has obviously rigged), CJ and Carlitos decorating their tree, and Maria and Carlos trying to help Rosa prepare the tamales for dinner.
Later, the Casagrandes are prepared to go caroling for Las Posadas, but just as they're about to leave, they find the Chang family at their door. When Ronnie Anne asks what brings them here, Sid and her family explain that Nico and Cam crashed their gravy train (which is a literal toy train) into their Christmas turkey and ruined their dinner. Feeling sorry for their favorite upstairs neighbors, Rosa invites the Changs in for dinner. However, since they're currently out of tamale ingredients and she's already used up the mercado's current supplies, she requests that Arturo run to the Hi 'n' Buy to pick up more. He agrees to do so, despite Ronnie Anne's objection. Shortly after Arturo leaves, Mr. Nakamura and his son, Cory, show up at the Casagrandes' apartment, saying that they were planning to go to a Christmas sweater party, but their apartment got infested with moths. Rosa invites the Nakamuras in for dinner as well, and calls Arturo (right as he's leaving the Hi 'n' Buy) to tell him that he'll need to buy more ingredients.
Ronnie Anne tries to remind Rosa about their caroling plans, but Rosa tells her that they can't just leave their unexpected guests behind and suggest that Bobby and Ronnie Anne go on without her (and Maria and Carlos, both of whom offer to stay and help). Just then, there's another knock at the door - it's more of the family's friends, including Vito and his dogs (who had planned to go skiing with his son, but can't because his son had a last-minute emergency at his job), Mrs. Kernicky (whose Polar Bear Club had planned to go swimming in the lake, but can't because the lake has frozen), Mrs. Flores and Alexis (who had to cancel their vacation to Hawaii because of a tropical storm), and Maybelle (who just plain forgot to make plans for Christmas). Rosa invites them all in and again calls Arturo to tell him he needs to buy even more ingredients. Vito then accidentally slips on a slice of pizza that fell from the ceiling and lands on Nico's tail, causing the monkey to jump about, knocking the decorations off the tree, tearing down the papel picado, and wrecking the piñata in the process. As a result, Bobby and Ronnie Anne's cousins tell them that now they have to stay behind too to fix the decorations.
Ronnie Anne complains to her abuela that their neighbors are ruining their Nochebuena plans. Rosa tells her granddaughter that she needs to have more sympathy to their neighbors, since their own holiday plans were ruined. Ronnie Anne then gets the idea that she and Bobby could fix their neighbors' original plans for them, allowing them to go back:
They get Sergio to eat the moths infesting the Nakamuras' apartment, allowing Cory and his dad to knit themselves some new sweaters.
They use an exercise machine in the basement to set up a skiing simulation for Vito, and also add a video monitor for him to chat with his son.
They lend the kiddie pool to Mrs. Kernicky to relax in on the roof.
They create a Hawaiian backdrop in the Flores' apartment for them, and also get Maybelle to hang out with them.
And finally, they toss a lollipop out their door and get Nic and Cam to escape after it, forcing the Changs to chase after them. Right before the Changs leave, Ronnie Anne gives Sid their tamales to go.
After telling Rosa that their neighbors' problems have been solved, Ronnie Anne calls her dad to tell him this. However, before Arturo can answer his phone, the tower of masa that he's been wheeling around in his shopping cart falls on top of him, trapping him in the store's fountain right as the store closes for the night. When Ronnie Anne sees that Arturo isn't responding to her calls or texts, she and Bobby decide to go looking for him and see if he needs help.
Out on the sidewalk, Bobby slips on the ice, which sends him sailing through the "snowman house of horror" that Becky and Ricky have been working on and crashing into a lamp post. As Ronnie Anne runs up to her brother, they then see their dad stuck inside the Hi 'n' Buy across the street. However, since the store is closed, Bobby tells Ronnie Anne that they need to call his buddy, Par, the delivery guy, for the access code. Just then, Becky and Ricky, who are angry about Bobby accidentally wrecking their snowmen, challenge them to a snowball fight. Bobby fights off the twins' snowball attacks while Ronnie Anne calls Par. After Par tells Ronnie Anne the code, she and Bobby dash inside the store, leaving Bobby's phone behind after one of Becky and Ricky's snowballs knocks it out of Ronnie Anne's hands. Inside, Bobby and Ronnie Anne find their dad stuck in the masa and pull him out (along with a cricket he befriended named Julio). But before the Santiagos can leave the store, a snow plow drives by outside and covers the store's entrance with snow, inadvertently trapping them inside.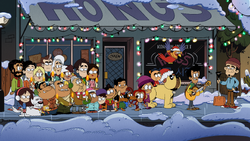 Back at the Casagrandes' apartment, the family are all making tamales together when Maria and Rosa both realize that Bobby and Ronnie Anne are missing. Rosa tries to call Ronnie Anne's cell phone, but when she doesn't get an answer, she realizes something is wrong. Back at the Hi 'n' Buy, the Santiagos (and Julio) are attempting to dig their way through the heavy amount of snow in the doorway, to no avail. Ronnie Anne and Bobby lament to their dad that their perfect Nochebuena is ruined now, when suddenly they hear noises coming from outside. A hole breaks through the snow, and in come the Casagrandes and all their neighbors from earlier. The neighbors explain that when Rosa told them what was happening, they immediately stopped what they were doing to come help, to repay Bobby and Ronnie Anne for saving their Christmases. Ronnie Anne and Bobby, realizing what their neighbors went through for them and feeling guilty about trying to get them to leave earlier, decide to invite them all to come caroling with them and their family. They then all go around Great Lakes City as Bobby sings a Las Posadas carol to everyone they encounter. Afterwards, they all go back to celebrate at the Casagrandes' apartment, where Ronnie Anne tells her parents and brother that this is the best Christmas ever. Just then, there's one more knock at the door - it's the Louds, with Lincoln asking to spend the evening here because Vanzilla broke down when they were picking up Lori from college. Rosa says they're going to need to get more masa for the Louds; everyone declares not to volunteer for that task, but Arturo is the last to respond, much to his dismay.
Cast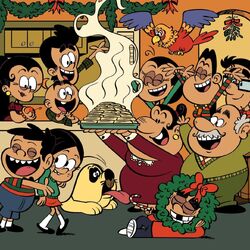 Note: Cory Nakamura, Mr. Hong, Bruno, Margarita, Greta the Great, Romeo, Nikki, Casey, Sameer, Alberto (Casey's dad), Lynn Loud Sr., Rita Loud, Lori Loud, Leni Loud, Luna Loud, Luan Loud, Lynn Loud Jr., Lucy Loud, Lana Loud, Lola Loud, Lisa Loud, and Lily Loud appear, but do not have speaking parts.
Gallery
See also
External links