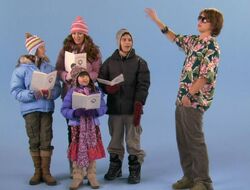 "

Christmas is a time to celebrate peace and love. It's a time to give.
Unless you're Derek, in which case it's a time to celebrate yourself. Which is pretty much what he does all year long.

"

— Casey MacDonald
"A Very Derekus Christmas" is the Christmas episode of the Canadian Family Channel sitcom Life with Derek, produced & aired in its third season.
Synopsis
The MacDonald-Venturi families plan to celebrate Christmas in their own special ways. For Derek, Christmas is a time to take a trip south of the border to Florida for surfing and babe-watching, as part of a holiday he calls "Derekus." Casey and Lizzie also want to go south of the border, but to New York to visit their real father. Edwin and Marti go skiing in Mont-Tremblant, and George and Nora celebrate a romantic evening alone. But all plans are cancelled when a blizzard sends the MacDonald-Venturi kids back home, except for George's Aunt Madge, who encourages Derek to help restore the family's holiday spirit.
External links
Community content is available under
CC-BY-SA
unless otherwise noted.