"A Very Glee Christmas" is the first Christmas episode of the Fox television series Glee.
Synopsis
The William McKinley High School faculty hold a Secret Santa gift exchange, but cheerleading coach Sue Sylvester (Jane Lynch) tampers with the outcome, ensuring that she receives all the gifts. Glee club director Will Schuester (Matthew Morrison) sends the club, New Directions, caroling around the school to raise money for a local homeless charity. As a result of their unpopularity, they are met with verbal and physical abuse from students and staff alike. At Dalton Academy in Westerville, Ohio, former New Directions member Kurt Hummel (Chris Colfer) sings a duet of "Baby, It's Cold Outside" with his friend and mentor Blaine (Darren Criss), who is auditioning for Kings Island's Christmas Spectacular. Will visits Kurt seeking advice on a gift for Sue, and Kurt reveals that he has fallen in love with Blaine.
Glee club co-captain Rachel Berry (Lea Michele) attempts to make amends with her ex-boyfriend Finn Hudson (Cory Monteith), having previously cheated on him with his best friend Puck (Mark Salling). Finn is particularly hurt as Rachel is the second of his girlfriends to cheat with Puck, and tells her he is officially ending their relationship. Club member Artie Abrams (Kevin McHale) discovers that his girlfriend Brittany Pierce (Heather Morris) still believes in Santa Claus, and has the other members visit a Santa's Workshop Christmas Grotto to reinforce her belief. Brittany asks the grotto's Santa to restore Artie's ability to walk. Hoping to maintain her faith, Artie convinces football coach Shannon Beiste (Dot Marie Jones) to dress as Santa and explain to Brittany that this particular wish cannot be granted. Brittany is bitterly disappointed, until Beiste secretly purchases Artie a ReWalk, a mobility device which allows him to stand and walk with the assistance of forearm crutches.
Will and the other faculty members discover Sue's deception and reclaim their gifts with the intent of donating them to the homelessness charity. Incensed, Sue dresses as the Grinch with her favorite cheerleader Becky Jackson as Max and steals back the presents, vandalising the choir room's Christmas decorations in the process. Brittany shows up in the middle of the theft, filling the Cindy Lou Who role - she asks "Santa" where he's taking the presents and decorations, and the Grinch explains that a light bulb is out and he is taking it to the North Pole for repairs. The club members are dismayed by the theft, but Will encourages them to give a private performance to the faculty, many of whom make charitable donations. When Sue overhears New Directions performing "Welcome Christmas", she regrets her actions and returns the presents to Will, bringing the New Directions members to decorate his apartment and spread holiday cheer.
Songs
Videos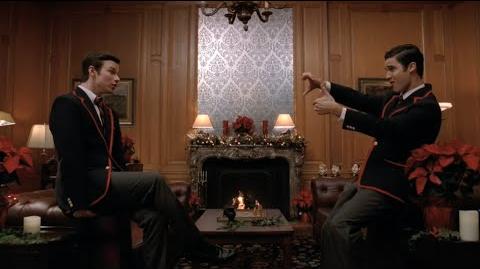 See also
External links
Community content is available under
CC-BY-SA
unless otherwise noted.