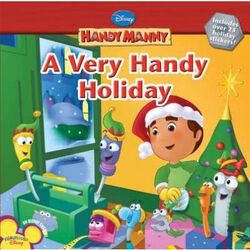 "A Very Handy Holiday" is the special half-hour Christmas episode of the Disney Channel animated series Handy Manny, produced and aired as the fifteenth episode of its first season.
Synopsis
Manny and the Tools; Felipe, Turner, Dusty, Squeeze, Pat, Stretch, and Rusty; are getting ready for Christmas but they have some help along the way. First Mayor Rosa needed help with the broken bulb from the tree and replace it with a spare bulb with her thanks the young carolers sing happily from their hearts. Then Mrs. Portillo needed her help with the door but Felipe and
Turner finally working together. Sherman also needed help with his car trouble the gang unstuck the car and he thank them for the job well done. Mr. Lopart who is still trying to get the light around his store but finally he needed help too and they all got to work. By then, it's far too late to go to the party, but back at the repair shop Manny and the tools decide working together for the holidays is going to be more fun than ever, so they finish up the presents for their neighbor, Kelly, who notices that Manny and the tools aren't here for her party. She decided to bring the party to Manny's repair shop with Mr. Chu, Marion, Abuelito, Cassie, Coach Johnson and Mrs. Portillo. Then they heard the sound of singing, the carolers turns out to be Susanna, Marcello, Julietta, Nelson, Leela, and Alex singing like angels. Mayor Rosa wished Manny a happy holiday, one however didn't make it to the party was Mr. Lopart. Manny decided to invite him to the party and he found out that it is turned out to be a happy holiday after all.
Songs
"Hop Up, Jump In"
"Dashing Through the Tree"
"We Work Together"
"When We Work as One"
Home video availability
Cast
See also
External link