We're Getting Mutants in the MCU - The Loop
Play Sound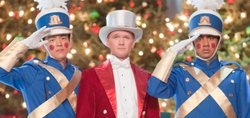 A Very Harold & Kumar Christmas is a 2011 3D stoner comedy film directed by Todd Strauss-Schulson, written by Jon Hurwitz and Hayden Schlossberg, based on the characters they created, and starring John Cho, Kal Penn, and Neil Patrick Harris. It is a sequel to the 2008 film Harold & Kumar Escape from Guantanamo Bay and the third installment in the Harold & Kumar film series. The film was released on November 4, 2011 and was the series' first installment to be shown in 3D.
Synopsis
Kumar Patel is getting ready for the holidays by visiting Santa at the mall. Later on, the so called "Santa" sells him weed in the mall's parking garage. The story soon follows Harold Lee, now a successful businessman who works at a popular company. His assistant, Kenneth persuades him into buying a 3D television, and notes it can make "Avatar look Avatarded". When leaving the building, they are mobbed by angry citizens who throw eggs at them.
At Maria's Christmas party, Harold meets Maria's father. He explains to Harold, to accidentally ruined the Christmas tree, that he never had a perfect Christmas and he is counting on Harold to make this one the best for his daughter, Harold's girlfriend Maria. Harold reserves a tree that Kumar intentionally steals. The car with Kumar's tree on crashes and blows up on the highway. Harold argues with Kumar right before introducing them to their new friends. Harold, Kumar, Todd, Adrian and Todd's daughter drive to a party in New York to retrieve a Christmas tree at Adrian's partners party. It takes a turn for the worse and Harold and Kumar are forced to go to Broadway, where hopefully Neil Patrick Harris can get them one.
After a wild night of performing an Broadway, getting kidnapped and shooting Santa Claus, Harold and Kumar return to their regular lives. Harold invites Kumar to his Christmas party the following day. Later on in the evening, Kumar sneaks through Vanessa's window and explains he will stop smoking weed for the sake of her stillborn baby. Harold returns to Maria's house with her father waiting on the couch. The two argue until Harold explains he might not be the perfect son-in-law, but he is the perfect man for Maria. Maria's dad hesitates before accepting him into the Perez Family.
The film ends with Harold and Kumar celebrating Christmas with their families and Kumar having sex with Vanessa before her stomach goes fat on him. The end credits include the cast names followed by a snowflake with their picture in it.
Music
The score was composed by William Ross, who was nominated for a 2012 IFMCA Award for Best Score in a Comedy Film.
Songs
Title(s)
Performed by
"It's Beginning to Look a Lot Like Christmas"
Perry Como and The Fontane Sisters
with Mitchell Ayres & His Orchestra

"Couture Failure"
"Wafflebot Party"
"Number 24"
"It's a Very Jolly Day (For You to Die)"
"Michigan and Vermont"

Gregory James Jenkins
"Has Anybody Seen Kris Kringle?"
"

Donde Esta Santa Claus

"
Augi Rios
"Christmas Fever"
G.J. Jenkins
Genevieve Jones
"Ding Dong Merrily on High"
"Christmas with the One That I Love"
"Wu-Tang Clan Ain't Nuthing ta F'wit"
"Sleigh Ride" (Vocal)
Johnny Mathis
"Daddy Fat Sax"
Big Boi
"Ave Maria"
"Dougie Houser"
Envy
"Burnin'"
Rahsaan Patterson
"The Nutcracker,
Op. 71 Act 1 No. 2, March"
"Let's Go"
Natural Habitz
"Drop It Like It's Hot"
Royce
Bing Crosby
"What's Up Blood?"

They Might Be Giants
John Linnell (vocals)
John Flansburgh (vocals)

"Wonderful Christmas Time"
"Hallelujah Chorus (from The Messiah)"
"Carol of the Bells
Paul Oakenfold
William Ross
"Silent Night"
Larry Price
Neil Patrick Harris
"Little Drummer Boy"
Eric Kissack
"Do Not Conceal Thy Radiant Eyes"
Ralph Allwood
"Just Look Around"
Mel Tormé, Keith Lockhart,
Cincinnati Sinfonietta
"Sleigh Ride" (Instrumental)
Soundtrack
#
Title
Performed by
1
It's Beginning to Look a Lot Like Christmas" (with The Fontaine Sisters)
2
"It'# a Weederful Life" (Dialogue)
Kal Penn
3
"

Donde Esta Santa Claus

"
4
"The Christmas Toy of the Season" (Dialogue)
5
"Carol of the Bells"
William Ross
6
"You Lost Your Gangsta Grill"
7
"Sleigh Ride"
8
"Meeting the New Besties" (Dialogue)
John Cho
9
"Has Anybody Seen Kris Kringle?"
10
"Daddy Fat Sax"
11
"I Told Her You Work for the White House" (Dialogue)
12
"Ave Maria"
The City of Prague Philarmonoc Orchestra
13
"Dougie Houser"
14
"Party's Over"(Dialogue)
15
"White Christmas"
16
"It's a Very Jolly Day (For You to Die)"
17
"I Thought You Were Gay" (Dialogue)
18
"Christmas Medley"
Neil Patrick Harris
19
"A Sock Filled with Baby Powder" (Dialogue)
20
"Have Yourself a Merry Little Christmas" (2006 Remaster)
Bing Crosby
Cast
Actor(s)/actress(es)
Character(s)
Patton Oswalt
Mall Santa
Isabella Gielniak
Caren
Kal Penn
Eric Stratemeier (double)
Kumar
Austin Bickel
Boy in Line
Inga Wilson
Mom in Line
John Cho
Harold
Bobby Lee
Kenneth Park
Tom Lennon
Todd
Amir Blumenfeld
Adrian
Paula Garces
Maria
Danny Trejo
Mr. Perez
Marvin Cruz
Timo Perez
Allyson V. Lengers
Gabriel Anderson
Wafflebot Kids
Eric Kissack (voice)
Wafflebot
Danneel Harris
Vanessa
Shirley Benyas
Nana Perez
Esteban Cruz
Pepe Perez
Ashley, Chloe & Hannah Coss
Ava
RZA
Lamar
Da'Vone McDonald
Latrell
Jordan Hinson
Mary
Tyler Nelson
Tom Kruszewski
Steven A. Clark
Teens
Bennett Saltzman
Boris
Hilary Anderson
Hot Teenage Girl
Elias Koteas
Sergei Katsov
Yasen Peyankov
Yuri
John Hoogenakker
Gustav
Eddie Thomas
Rosenberg
David Krumholtz
Goldstein
Tristan Canning
Noah
David Rife
White Castle Employee
Dave Davies
Church Security Guard
Gabriella Dilone
Inez Perez
Dana DeLorenzo
Becca (the P.A.)
Neil Patrick Harris
Himself
Brett Gelman
T.V. Director
Melissa Ordway
Gracie
Dan Levy
Reporter
David Burtka
Himself
Ripper Brown
St. Peter
Evan Mann, Gareth Reynolds
Heaven's Bartenders
Jake Johnson
Jesus
Cassie Keller
Chernise Yvette Taylor
Topless Angels
Richard Riehle
Santa Claus
Megan Agrusa
Bobby Amamizu
Christine Babini
Ashley Cinq-Mars
Michelle Diterlizzi
Marisa Dorchock
Jenelle Engleson
Aundrea Fant
Jessie Foutz
Brittany Ashley Freeth
Erin Gales
Alicia Gilley-Kingsley
Sarah Hurbert-Burns
Annika Ihnat
Brandon Koepsell
Jessica Lamarre
Kandis Mak
Marcy McCusker
Cortney Millar
Lindsey Oleary
Rachel Omell
Taylor Peters
Jessica Provencher
Katie Reese
Lindsey Tuer
Florence Vinger
Shawn Vitale
Tiffany Osborne (uncredited)
Dancers
Uncredited
Arnold Agee
House Party Teen
Jodi Beals
Protestor
April Canning
Rosenberg's Wife
Alex Diaz
Jeff Edwards
David Wogh
Wafflebots
Sabrina Dungan
Dancing Chick at Party
David Geister
Orthodox Jew
Krystal Katz
Kissing Party Lesbian #1
Demi Kazanis
Kelly Kirstein
Partygoers
Danielle McKee
Melanie
Ralph Meyer
Restaurant Patron
Marcus Natividad
Tattooed Gangster
Melody Teodoro-Kurtis
Perez Family Member
Banzai Vitale
Angry Protester
External links