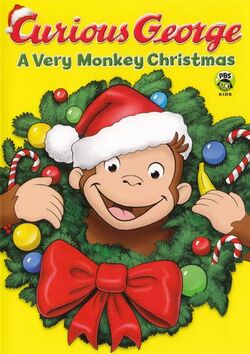 "A Very Monkey Christmas" is an hour-length episode of the PBS Kids animated show Curious George, originally released as a direct-to-DVD movie. The special was released on DVD on October 13, 2009, and premiered on many PBS stations on November 25th of the same year.
Synopsis
It is Christmastime but George and "The Man In The Yellow Hat" have a problem. They must both find out what each other wants for Christmas. George draws out his Christmas list with a simple picture but Tad cannot seem to see what it is, nor can anybody else who has an animal companion like The Doorman or Chef Pisghetti even though they can perfectly understand their companion. Tad tells George to just surprise him and George decides to make him a present, although he cannot decide what to make. Meanwhile, Betsy tries to write her Aunt Margret a new Christmas Carol but everything about Christmas, from snow to Santa, already has a song. Soon Betsy writes the first song about a Christmas monkey and Tad gets visited by Mr. Reloj in a dream who shows him what George's life would be like if he were the animal companion of other characters on the show. Since each character specifically understands their own animal friend, and George is George no matter who he is together with, Tad learns that he is George's proper companion and finally finds out what George wants.
Voice cast
Community content is available under
CC-BY-SA
unless otherwise noted.