"
I can hardly believe it's only been a year since the United Nations abolished religious holidays in favor of the non-offensive, all-inclusive, Snowflake Day.
"
"A Very Special Clone High Snowflake Day Special" is the Christmas special of MTV's short-lived animated series Clone High, produced as the eleventh episode of its duration, but aired as the last one for the show's cancellation in Canada, after serveral viewer requests to comissionet Teletoon, who normally doesn't air holiday episodes off-season. It was written by the staff writer Erica Rivinoja.
Summary
It's Snowflake day and Cleo really wants an expensive gift so Abe and Gandhi get jobs, but when working proves too hard they instead try to market there new invention, the Knork. Meanwhile Joan is sick of Snowflake Day and is helped by a sexy dumpster teen who looks an awful lot like Mandy Moore.
Song
Cast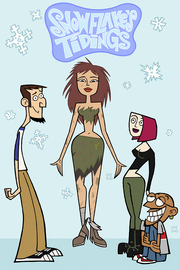 Trivia
In the beginning of this episode, a parody of the 1973-1990 "A CBS Special Presentation" bumper appeared.
External link
Community content is available under
CC-BY-SA
unless otherwise noted.