Doctor Strange in The Multiverse o Madness - The Loop
Play Sound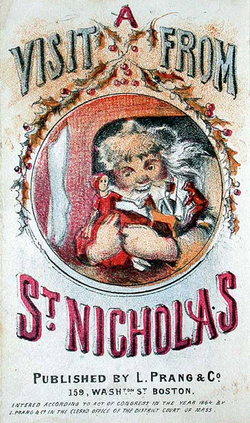 A Visit from St. Nicholas, also known as The Night Before Christmas and Twas the Night Before Christmas from its first line, is a poem, first published anonymously in 1823 and generally attributed to Clement Clarke Moore, though the claim has also been made that it was written by Henry Livingston, Jr.
Synopsis
On Christmas Eve night, while his wife and children sleep, a man awakens to noises outside his house. Looking out the window, he sees St. Nicholas in an air-borne sleigh pulled by eight reindeer - Dasher, Dancer, Prancer, Vixen, Comet, Cupid, Donder, and Blitzen. After landing his sleigh on the roof, St. Nicholas enters the house through the chimney, carrying a sack of toys with him. The man watches St. Nicholas filling the children's stockings hanging by the fire, and laughs to himself. They share a conspiratorial moment before St. Nicholas bounds up the chimney again. As he flies away, St. Nicholas wishes everyone a "Happy Christmas to all and to all a good night."
Film and television adaptations
'Twas the night before Christmas in the year 33,
When this hobo named King decided he wanted to ride for free.
He was riding on the roof as king of the pole
When it started to fall that white stuff called snow.
The engine started down the steep; icicles dropped;
Headed toward the tunnel, a tunnel called Flat Top.
The train made its way toward the tunnel moved faster
And the king got nervous 'cause up ahead was disaster.
He didn't have time to holler, he didn't have time to cry.
He got slipped off this train like that stubborn Georgia Swamp in July.
Musical adaptations
Parts of the poem have been set to music numerous times, including a bowdlerized version by American composer Ken Darby (1909-1992), whose version was recorded by Fred Waring and the Pennsylvanians three separate times; in 1942, 1955, and 1963. The latter 1963 stereo recording for Capitol Records became the most familiar of the poem's musical adaptations. Norman Luboff's choir would record their own version for the 1968 special.
Christmas song-writing specialist Johnny Marks also composed a short version in 1952, titled "The Night Before Christmas Song", which has been recorded multiple times, and was used in the soundtrack for the 1964 TV special Rudolph the Red-Nosed Reindeer, sung by Burl Ives.
In 1953, Perry Como recorded a recitation of the poem for RCA Victor, and Louis Armstrong recited the poem in a March 1971 recording made only four months before his death.
The first completely musical rendition, that used the text of the poem in its entirety without material additions or alterations, was the cantata "A Visit from St. Nicholas" composed by Lucian Walter Dressel in 1992 and first performed by the Webster University Orchestra, SATB Soloists, and Chorus.
Gallery