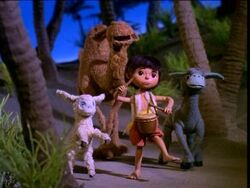 Aaron is the main protagonist of the Rankin/Bass special The Little Drummer Boy and its sequel. His parents were killed by bandits and he vowed to hate other people forever. But Baby Jesus brought a softness in his heart when he played his drum for him.
Role in the specials
The Little Drummer Boy
Aaron is born to a poor farmer. On Aaron's birthday, he was given a drum by his parents. Aaron played the drum every day. But one night, two desert bandits broke into the sheepfold and started stealing their sheep. Aaron's father tried to stop them but one of them killed him by throwing a sword at him. Then Aaron's mother told him to escape. Aaron ran and watched the bandits kill his mother burn his farm to the ground and steal the flock. Accompanied by three of his farm's animals (a lamb named Baba, a donkey named Samson, and a camel named Joshua), Aaron wanders the desert, with a vow of hatred for all humans. He is then kidnapped by two greedy men, Ben Haramed and Ali, who eventually sell his camel, Joshua, to the Three Kings - Melichior, Gaspar, and Balthazar.
Aaron wanders the desert looking for his camel. He saw the star and followed it to Bethlehem. He finds the kings at a stable with a bunch of shepherds. He runs to his camel Joshua, but his lamb, Baba, is hit by a Roman carriage. Aaron asks one of the kings to save his lamb, and is told to go look upon the newborn King, the baby Jesus, and give him a gift. Aaron plays his drum for baby Jesus. Mary nods as the song continues. In the end, his lamb runs toward him. Aaron learns that his hatred for humanity that he had harbored for so long was overshadowed by the grace of God.
The Little Drummer Boy, Book II
In the sequel, Aaron helps Melchior (one of the Three Kings) and Simeon, an elderly bell-maker who has made a special set of silver bells to commemorate the birth of Jesus. After the bells are stolen by Roman tax collectors, Aaron sneaks into their camp and plays them a song on his drum while he thinks of what to do next. Brutus, the leader of the tax collectors, is unamused and seizes Aaron's drum, burning it in a bonfire. Aaron is heartbroken, but he and his animals still proceed to take back the silver bells, saving the day. As a thank-you, Simeon crafts a replacement drum for Aaron. The special closes with Aaron watching the ringing of the bells.
Community content is available under
CC-BY-SA
unless otherwise noted.