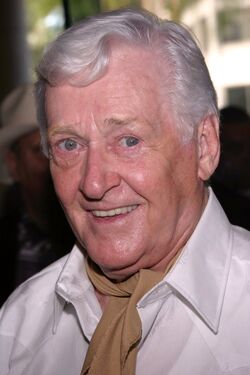 Alan Young (born Angus Young; November 19, 1919 - May 19, 2016) was an English-born, Canadian-American actor, voice artist, comedian, radio host, television host and personality who starred in his own radio and television shows in the 1940s and the 1950s, with one of his best known television roles being that of Wilbur Post on Mister Ed.
In animation, Young was best known for having been the voice of Scrooge McDuck. The third person to provide Scrooge's official voice (after Dal McKennon and Bill Thompson), Young first performed Scrooge's voice for the 1975 LP album An Adaptation of Dickens' Christmas Carol, Performed by The Walt Disney Players, which he co-wrote alongside Alan Dinehart. Almost a decade later, Young learned from a friend that Disney was adapting the record as the animated film Mickey's Christmas Carol, and auditioned for the part, which Disney initially thought he would not be interested in reprising. Although the next cartoon to feature Scrooge, Sport Goofy in Soccermania, would have the character voiced by Will Ryan, Young being Scrooge's voice was solidified in the animated series DuckTales, and he would continue to provide the character's voice up until his death in 2016.
Christmas special credits
Animation
Live-action
External links
Community content is available under
CC-BY-SA
unless otherwise noted.