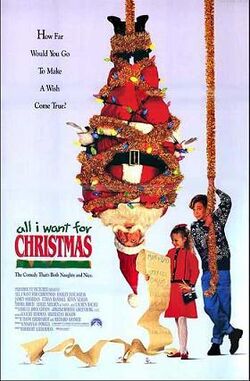 All I Want for Christmas is a 1991 American comedy movie. It is a Paramount picture that is released to theaters on November 8, 1991.
Summary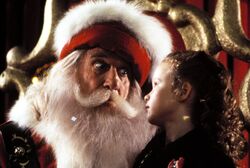 Ethan and his younger sister, Hallie, know what they want for Christmas and come up with a scheme to make sure they get it. They plan to get their divorced parents back together for the holidays. First, they need to rid themselves of pesky Tony, a businessman who has taken an interest with their mother. With the help of mice, an ice cream truck, a few telephone calls, and the magic of Santa, their plan might just work.
Songs
"All I Want for Christmas" - performed by Stephen Bishop
"Heart and Soul"
"I Love You Truly"
"She's My Cutie" - performed by K.M.C. Kru
"Sleepwalk" - performed by Santo & John Farina
"Stagger Lee" - performed by Lloyd Prince
"Under the Christmas Tree" - performed by Bob Gulley
"Yakety Yak" - performed by The Coasters
"All I Want" - performed by S. Bishop
"Mall Medley"
"On the Street"
"Eine Kleine Nachtmusik" - performed by Wolfgang Amadeus Mozart (composer)
"Going to Macy's"
"The Snowball Ploy"
"Waltz of the Flowers" - performed by Pyotr Ilyich Tchaikovsky (composer)
"The Christmas Gift"
"Tony in the Truck"
"Playing in the Snow"
"The Santy Song" (Piano Solo)
"All I Want" (Instrumental)
"Thank You Santa" - performed by Bruce Broughton
Score
In 2016, Intrada Records released an album collecting Bruce Broughton's complete score for the film. The track listing was as follows:
#
Track title
Length
1
On the Street
1:03
2
Meet Michael
0:49
3
At the Museum
1:08
4
Station Goodbye
0:26
5
What're We Gonna Do?
0:48
6
I'm Getting Married
0:49
7
Going to Macy's
2:35
8
Ethan and Hallie
0:25
9
The Snowball Ploy
2:18
10
Thickening the Plot
1:04
11
Working Out Perfectly
0:36
12
Tony in the Truck
1:58
13
Way to Go, Hal!
0:40
14
"All I Want" (Instrumental; David Foster/Linda Thompson)
1:43
15
Favorite Adventure
0:46
16
Together Again
1:40
17
Playing in the Snow
2:40
18
The Christmas Gift (Revised)
3:38
19
Thank You, Santa!
3:42
The Extras -
Instrumental Source Music Conducted by Bruce Broughton
20
Mall Medley (Traditional, Arranged by Don Nemitz)
3:15
21
Eine Kleine Nachtmusik (Wolfgang Amadeus Mozart)
2:05
22
Hark! The Herald Angels Sing (Felix Mendelssohn, Arranged by Bruce Broughton)
1:22
23
Waltz of the Flowers (Pyotr Illich Tchaikovsky)
0:46
24
Have Yourself a Merry Little Christmas (Hugh Martin/Ralph Blaine, Arranged by Don Nemitz)
2:09
Additional Music by Bruce Broughton
25
The Santy Song (Piano Solo)
2:43
26
Pet Shop
0:13
27
The Christmas Gift (Original)
3:20
Cast
Actress/actor
Character(s)
Harley Kozak
Catherine O'Fallon
Jamey Sheridan
Michael O'Fallon
Ethan Randall
Ethan O'Fallon
Kevin Nealon
Tony Boer
Thora Birch
Hallie O'Fallon
Andrea Martin
Olivia
Lauren Bacall
Lillian Brooks
Amy Oberer
Stephanie
Renée Taylor
Sylvia
Leslie Nielsen
Santa
Felicity LaFortune
Susan
Camille Saviola
Sonya
Michael Alaimo
Frankie
Joanne Baron
Darrell Kunitomi
Salesdervishes
Alan Brooks
Mr. Chase
Elizabeth Cherney
Paige
Otto Coelho
Bruiser
Frank Girardeau
Joe Costanza
Burlies
J. Teddy Davis
Santa's Helper
Tracy Diane
Girl in Line
Joey Gaynor
Shep
Patrick LaBrecque
Marshall
Phil Leeds
Mr. Feld
Neal Lerner
Caterer
Harriet Medin
Mrs. Graff
Devin Oatway
Kevin Mars
Kavi Raz
Cabbie #2
Bernardo Rosa Jr.
Paramedic #1
J.D. Stone
Lollipop Kid
Edith Varon
Stella
Joshua Wiener
Brad
George Both Jr., Chad Doreck,
Todd Hartman, Ryan Hill,
Richard M. Stuart, Gabriel Jiménez,
Justin Klosky, Mitchell Roche,
Michael Weiner, Donny B. Lord,
Erik von Detten, Ryan Hartman,
Josiah Berryhill, Channing C. Holmes,
Aaron Kisner, J.R. Nutt,
Ryan Sheridan, Norman Tatlock Jr.,
Bobby Waddington, D. Scott Wolf,
Derek J. Young
Choir
Gina August (uncredited)
Cab Driver
Patrice Messina (uncredited)
Italian bride
External links
Community content is available under
CC-BY-SA
unless otherwise noted.