The All That Christmas Special, produced and aired as the tenth episode of the show's second season, originally aired on December 23, 1995. Its special musical guest was Run DMC.
Featured sketches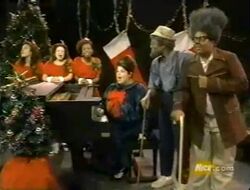 Green Room-Meet Santa: The kids meet Santa and give him some odd requests for Christmas presents.
Holiday Cooking With Randy & Mandy: Randy and Mandy show viewers some delicious chocolatey recipes for the holiday season. There's a turkey stuffed and basted with chocolate, some choco-motzah ball soup with chocolate balls and broth, and the Super Special Chocolate Milkshake, which is for any day!
Superdude Saves Christmas: While delivering some presents, Santa spies cookies and milk and tries to eat them-but he is trapped in a cage instead! Milkman is up to his usual tricks-he wants to ruin Christmas! He takes Santa to his secret lair, but Penny Lane soon shows up...along with Superdude, who was hiding in a giant present! Santa is freed and uses some karate on Milkman to beat him severely, leaving Superdude to save the day.
Holiday French with Pierre Escargot: Pierre wishes us a "Joyeux Noelle" with his Christmasy phrases in French.
Christmas Lemonade Scammer
Peter & Flem: Peter gets presents from Santa because he is a good boy. Flem gets presents, too - but only because he steals them.
The Girls' Christmas Carol
Mavis & Clavis introduce the musical guest - Run DMC, performing "Christmas In Hollis".
Trivia
Santa's line "Take your milky paws off me, you filthy ape!" is a reference to a similar line from Planet of the Apes.
Edits
The iTunes release of the episode cuts out The Girls' Christmas Carol sketch and Run DMC's performance at the end. This version of the episode was also the version featured on the official The 90s Are All That website in December 2011.
Cast
Actor
Character
Angelique Bates
Mandy
Penny Lane
Katrina Johnson
Lemonade scammer
Kel Mitchell
Peter
Clavis
Josh Server
Milkman
Flem
Kenan Thompson
Randy
Superdude
Pierre Escargot
Mavis
Community content is available under
CC-BY-SA
unless otherwise noted.