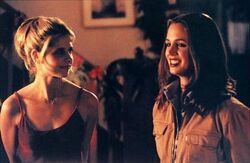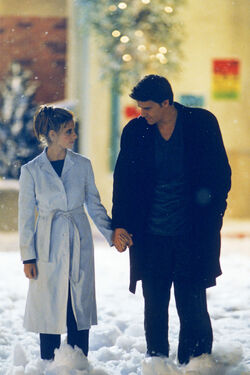 "Amends" is the Christmas episode of the television series Buffy the Vampire Slayer, aired in the show's third season.
Synopsis

While Buffy's friends and allies prepare for various forms of celebrating the holiday season, The First Evil, the incorporeal unkillable ancient entity from which all things wrong first came, targets Angel with all the many wrongs he did before he regained his soul. His aim is to destroy a potent force for good, and eliminate Buffy's souled-vampire ally and lover, by compelling the guilt-ridden Angel to pay for his bloody past as Angelus by awaiting the dawn and his death. Buffy fights the mortal minions of the First Evil to try and save Angel from guilt-driven suicide. But since the First Evil can assume the form of anyone who has died, and the list of Angelus' victims is so long and horrid, the entity has time on its side. But just as Angel prepares to let the morning sun destroy him, a miraculous snowfall thwarts both the First Evil and the prevailing weather patterns in Southern California. As the snow continues to fall that Christmas morning, Buffy and Angel take a rare daylight walk and simply have a wonderful Christmas time.
Trivia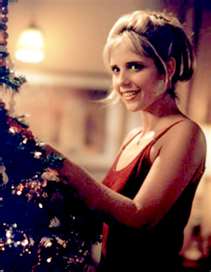 While not a Christmas episode, a later episode in the seventh season, "Bring On The Night", reveals that the First Evil, the entity introduced in this episode, as the major villain for that final season, almost exactly four years to the day "Amends" was first broadcast.
In a later episode, former demon Anya claims that Santa is real, but that he is a demon who eats naughty children. Also, despite her objections to the way people celebrating Christmas forget about Hanukkah, Willow Rosenberg is a huge fan of A Charlie Brown Christmas, with her best friend Xander often cheering her in the past with his rendition of "the Snoopy Dance".
Availability
The episode was made available on the Buffy the Vampire Slayer: The Complete Third Season DVD set, released on January 7, 2003.
Cast
Sarah Michelle Gellar as Buffy Summers
Nicholas Brendon as Xander Harris
Alyson Hannigan as Willow Rosenberg
David Boreanaz as Angel
Eliza Dushku as Faith Lehane
Kristine Sutherland as Joyce Summers
Charisma Carpenter as Cordelia Chase
Seth Green as Daniel Ozborne
Community content is available under
CC-BY-SA
unless otherwise noted.