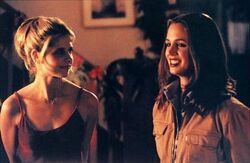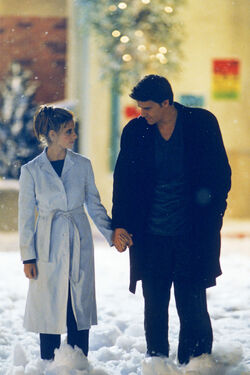 "Amends" is the Christmas-themed episode of the television drama Buffy the Vampire Slayer, aired as the tenth episode of its third season on The WB.
Synopsis

It is Christmas in Sunnydale and Angel is haunted with dreams of the people he murdered over the years as Angelus. When Buffy starts getting dragged into his memory-nightmares, experiencing Angel's dreams also, they realize something unnatural is happening. Visions of his past victims, including Jenny Calendar, appear to him and try to get him to kill Buffy, saying that he will be released from the pain if he does so.
Angel cannot bring himself to do this, so instead he opts to kill himself by standing on a hill and waiting for the sun to come up. Meanwhile, Oz tells Willow that he is willing to give their relationship another chance while Cordelia is not as forgiving and resumes her previously hostile ways towards the Scooby gang.
Buffy and Giles figure out that the First Evil has been driving Angel insane. Buffy finds the Bringers and pummels them. After the First appears to her, informing her that she cannot possibly fight it, and that Angel is about to be destroyed by the dawn's light, she runs to his mansion to stop him.
Oz goes to Willow's house to watch videos only to find her dressed up and playing Barry White's music, intending to sleep with him. Oz appreciates the gesture, but explains to Willow that he wants their first time to be special rather than just a way for her to try to make things up to him.
Buffy, who invited and ordered Faith to watch Joyce, finds Angel atop the hill behind the mansion, awaiting sunrise. However, the heatwave from which Sunnydale has been suffering abruptly ends and the first flakes of snow start to fall. With the weather report saying the sun should not be expected to be seen at all that day, Buffy and Angel take a walk through the town.
Songs
Availability
The episode was made available on the Buffy the Vampire Slayer: The Complete Third Season DVD set, released by 20th Century Fox Home Entertainment on January 7, 2003.
Notes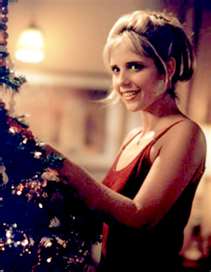 While not a Christmas episode, a later episode in the seventh season, "Bring on the Night", reveals that the First Evil, the entity introduced in this episode, as the major villain for that final season, almost exactly four years to the day "Amends" was first broadcast.
In a later episode, former demon Anya claims that Santa is real, but that he is a demon who eats naughty children. Also, despite her objections to the way people celebrating Christmas forget about Hanukkah, Willow Rosenberg is a huge fan of A Charlie Brown Christmas, with her best friend Xander often cheering her in the past with his rendition of "the Snoopy Dance".
Cast
| Actress/actor | Character |
| --- | --- |
| Sarah Michelle Gellar | Buffy Summers |
| Nicholas Brendon | Xander Harris |
| Alyson Hannigan | Willow Rosenberg |
| Charisma Carpenter | Cordelia Chase |
| David Boreanaz | Angel |
| Seth Green | Oz |
| Anthony Stewart Head | Rupert Giles |
| Kristine Sutherland | Joyce Summers |
| Saverio Guerra | Willy the Snitch |
| Shane Barach | Daniel |
| Edward Edwards | Male Ghost |
| Cornelia Hayes O'Herlihy | Margaret |
| Robia LaMorte | Jenny Calendar |
| Eliza Dushku | Faith |
| Mark Kriski | Weatherman |
| Tom Michael Bailey | Tree Seller Guy |
External link
20th Century Studios
Television episodes and specials
Animated shows and specials
The Simpsons and Futurama
"Simpson Christmas" • "Simpsons Roasting on an Open Fire" • "Marge Be Not Proud" • "Miracle on Evergreen Terrace" • "Grift of the Magi" • "Xmas Story" • "Skinner's Sense of Snow" • "She of Little Faith" • "A Tale of Two Santas" • "'Tis the Fifteenth Season" • "Simpson Christmas Stories" • "Kill Gil, Volumes I & II" • "The Futurama Holiday Spectacular" • "The Fight Before Christmas" • "Holidays of Future Passed" • "White Christmas Blues" • "I Won't Be Home for Christmas • "The Nightmare After Krustmas" • "'Tis the 30th Season" • "Bobby, It's Cold Outside" • "The Way of The Dog" • "A Springfield Summer Christmas for Christmas"
King of the Hill
"The Unbearable Blindness of Laying" • "Pretty, Pretty Dresses" • "Hillennium" • "'Twas the Nut Before Christmas" • "The Father, the Son, and J.C." • "Livin' on Reds, Vitamin C and Propane" • "Ms. Wakefield"
Family Guy, American Dad!, and The Cleveland Show
"A Very Special Family Guy Freakin' Christmas" • "The Best Christmas Story Never" • "The Most Adequate Christmas Ever" • "Rapture's Delight" • "A Cleveland Brown Christmas" • "Road to the North Pole" • "For Whom the Sleigh Bell Tolls" • "Murray Christmas" • "Season's Beatings" • "Die Semi-Hard" • "Jesus, Mary and Joseph!" • "'Tis the Cleveland To Be Sorry" • "Minstrel Krampus" • "Christmas Guy" • "Dreaming of a White Porsche Christmas" • "The 2000-Year-Old Virgin" • "How the Griffin Stole Christmas" • "Ninety North, Zero West" • "Don't Be a Dickens At Christmas" • "Santa, Schmanta" • "Christmas is Coming" • "Yule. Tide. Repeat."
Bob's Burgers
"God Rest Ye Merry Gentle-Mannequins" • "Christmas in the Car" • "Father of the Bob" • "Nice-Capades" • "The Last Gingerbread House on the Left" • "The Bleakening" • "Better Off Sled" • "Have Yourself a Maily Linda Christmas" • "Yachty or Nice"
Other cartoons
"Hook's Christmas" • "A Christmas Surprise for Mrs. Stillman" • Olive, the Other Reindeer • Ice Age: A Mammoth Christmas • "Miracle on Culpepper Slims Boulevard"
Community content is available under
CC-BY-SA
unless otherwise noted.