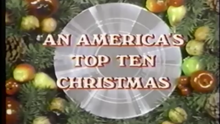 "America's Top Ten Christmas Special" is a Christmas episode of Casey Kasem's weekly television music countdown show, "America's Top Ten", based on his long-running radio program. It aired during the early 1980s.
Songs featured on the show included:
Also profiled was a kindly older gentleman, a philanthropist who dressed as Santa, who was presented as a model of the Christmas spirit and the "real Santa Claus".
Casey also tells the story of the Christmas truce of World War I. In his narrative, a German soldier leaves his foxhole to sing "Stille Nacht", the original German version of "Silent Night", and the battle ceases as all listen. Then a French soldier stands to sing "Minuit, Chrétiens", the original French version of "O Holy Night".
Community content is available under
CC-BY-SA
unless otherwise noted.