"An 'Even Steven' Holiday Special" is the holiday episode of the Nickelodeon animated series As Told By Ginger, originally broadcast on December 10, 2001.
Synopsis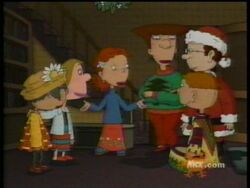 This page about a Christmas special or an episode from a television series with a Christmas theme is in need of a longer synopsis. You can help the Christmas Special Wiki by expanding this synopsis.
Ginger discovers that she's one-quarter Jewish. She decides to celebrate with a Hanukkah party and turns her back on Dodie's Christmas party, which upsets Dodie. She then decides to throw a party as an "even steven" holiday party. Meanwhile, Hoodsey finds out that the reason Carl doesn't believe in Santa Claus is because he used to wish that his father would come home for Christmas, and he never did. Hoodsey tells a street corner Santa, who is really Jonas, about this and Jonas decides to pay his family a visit.
Trivia
When Ginger is welcoming guests, she says, "Happy Birthday, Baby J!" This is as close as any Nicktoon has come to ever mentioning Jesus by name (although a character does refer to a baby Jesus in a manger scene as "that baby in the hay" in the second Rugrats Christmas special, "Babies in Toyland").
Cast
| Voice actor | Character |
| --- | --- |
| Melissa Disney | Ginger Foutley |
| Aspen Miller | Dodie Bishop |
| Jackie Harris | Macie Lightfoot |
| Jeannie Elias | Carl Foutley |
| Tress MacNeille | Hoodsey Bishop |
| Laraine Newman | Lois Foutley |
| Kenny Blank | Darren Patterson |
| John Astin | Dave Bishop |
| Grey DeLisle | Brandon Higsby |
| Elizabeth Halpern | Mrs. Zorski |
| Susan Krebs | Joann Bishop |
| Tom Virtue | Jonas Foutley |
| Jeff D. Buehl | Dwayne Cochran |
| Billy Brown | Mr. Patterson |
| Arthur Burghardt | Santa Claus #2 |
| Ja Net Dubois | Mrs. Patterson |
| Richard Steven Horvitz | Mitchey Mekeilburg |
| Guy Torry | Will Patterson |
External links