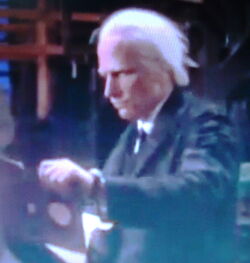 An American Christmas Carol is a 1979 made-for-TV movie. It is a reworking of A Christmas Carol, set in the United States. It stars Henry Winkler as a Scrooge-like character named Benedict Slade.
Among the differences apart from the obvious, Slade's ghostly former partner flatly calls where he is for Hell, speaking of a place where actions in life echo back rather than simple fire and brimstone. Also, Slade confiscates in his early miserly phase a copy of A Christmas Carol signed by Dickens, which he tears apart for the value of the leather in its binder. His past includes working for an old-fashioned furniture manufacturer who he helps to displace by using cheaper modern methods of lesser quality. Besides the traditional scene of his unmourned death, the most heartbreaking moment for him comes when he sees his lost love married and happy with the children that might have been his own.
Among his deeds upon reforming is to rebind and restore the copy of Dickens, giving it back to the debtor he took it from, and finding a bitter orphan like he himself once was, and taking him as ward and apprentice.
Cast
| Actor/actress | Character |
| --- | --- |
| Henry Winkler | Benedict Slade |
| David Wayne | Mr. Merrivale |
| Chris Wiggins | Mr. Brewster |
| R.H. Thomson | Mr. Thatcher |
| Kenneth Pogue | Jack Latham |
| Gerard Parkes | Mr. Jessup |
| Susan Hogan | Helen Brewster |
| Dorian Harewood | Matt Reeves |
| Tammy Bourne | Sarah Thatcher |
| Chris Cragg | Jonathan Thatcher |
| James B. Douglas | Sam Perkins |
| Arlene Duncan | Mrs. Jennie Reeves |
| Linda Goranson | Mrs. Doris Thatcher |
| Derrick Jones | Harry Barnes |
| Cec Linder | Auctioneer |
| Sylvia Llewellyn | Latham's secretary |
| Jefferson Mappin | Joe |
| Mary Pirie | Mrs. Brewster |
| Sammy Snyders | Young Benedict Slade |
| Ruth Springford | Mrs. Tidings |
| Justine Tell | Young Helen |
Availability
The movie was first released on VHS by Vestron Video in 1983, and later by UAV Corporation in 1991, and by Goodtimes Home Video in 1996. It was then released on DVD for the first time by Image Entertainment in 1999. A new DVD release and Blu-ray debut were released by Shout! Factory on October 9, 2012.
Trivia
Winkler was, at the time this movie was filmed and shown, internationally known as the iconic Arthur "Fonzie'" Fonzarelli on the hit ABC sitcom Happy Days. Concerned and frustrated that he would be forever typecast as the Fonz, he sought out this role to show that he was more than just the one character. To this end, he even turned down the role of Danny Zuko in the film version of Grease, which in the DVD commentary for An American Christmas Carol, he states he later somewhat regretted, while still enjoying the role of Slade.
The writer, Jerome Coopersmith also wrote another Christmas feature years prior for Rankin/Bass titled Twas the Night Before Christmas.
External links
Community content is available under
CC-BY-SA
unless otherwise noted.