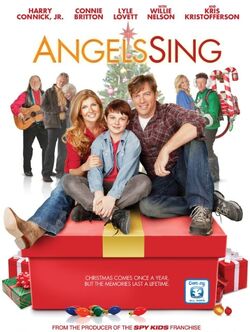 Angels Sing is a 2013 family drama film, based on the novel When Angels Sing by Turk Pipkin.
Summary
As a child, Michael Walker wished every day could be Christmas. That is, until a tragic accident crushed his holiday spirit. Thirty years later, Michael still can't muster any joy for the holidays, despite encouragement from his playful wife and well-intentioned parents. But when his young son faces a tragedy, Michael needs to make amends with his past. A mysterious man named Nick gives Michael a gift and instills in him the courage to find the joy that he lost.
Cast
Actor(s)/actress(es)
Character(s)/As
Harry Connick Jr.
Michael Walker
Brennan Barker
Michael Walker (young)
Connie Britton
Susan Walker
Chandler Canterbury
Uncle David Walker
Dylan Summerall
Uncle David Walker (young)
Fionnula Flanagan
Ma
Lyle Lovett
Griffin
Willie Nelson
Nick
Kris Kristofferson
The Colonel
Dana Wheeler-Nicholson
Maggie
Shelby Canterbury
Maggie (youngest)
Eloise DeJoria
Laura
Deborah Cole
Theresa
Sara Hickman
Aunt Claire
Turk Pipkin
Uncle Theo
Lidia Porto
Rosalba
Ken Edwards
E.R. Doctor
Ernest James
Coffeehouse Barista
Ariel Abshire
Kylie
Ray Benson
Salt Lick Pit Master
Michelle Valles
Reporter
Heather Kafka
David's Doctor
Mitchell Adams
State Trooper
Rebel Rodriguez-Avellan
Neighbor Boy
Joel Guzman
Himself
Sarah Fox
Sarah Guzman
Guy Forsyth
Himself
Carolyn Wonderland
Herself
Lillia White
Miss Lavelle
Lili Blessing
Lily
John Pointer
Beat Box Guy in Coffeehouse
Dale Watson
Himself
Donald John Pawlak
Steel Guitar (The Lone Stars)
Christopher Crepps
Upright Bass (The Lone Stars)
Mike Bernal
Drums (The Lone Stars)
Connor James
Travis
Georgia Cole
Tricia
Marcia Ball
Great Aunt Jocelyn
Charles Wayne Sexton
Bob
Robert Schneider
Robert Earl
Savannah Welch, Kelley Mickwee,
Jamie Wilson, Elizabeth Foster
The Trishas
Kat Edmonson
Kat
Vanessa Kjeldsen, Amy Kwalwasser
Congregants
Josh Kyle
Toddler Uncle David
Jim Mangum
Mourner
Joe Morales
Himself
Bruce Robison
Uncle Jeff
Levi Ryan
Infant Michael
Timeca M. Seretti
Nurse
Tyrone Gordon
Civilian
Mitch Watkins
Mitch
Rachel Young
Young Ma
Michael Adams (uncredited)
Father
Neighbor
Patty Allieri (uncredited)
Technician
Lisa Belcher (uncredited)
Churchgoer
Ro' Black (uncredited)
Neighborhood Lady
Brandon Buescher (uncredited)
Kelsey Belton (uncredited)
Neighbors
Melissa Cordero (uncredited)
College Student
Eric Davenport (uncredited)
Soccer Player
Alex Draguicevich (uncredited)
Young David
Isabel Elena (uncredited)
Girl In Coffee Shop
Mike Gassaway (uncredited)
Doctor
Jack & Tyler Giminiani (uncredited)
Corbyn Lowe (uncredited)
Sightseers
Steve Jimenez (uncredited)
Pedestrian
Connie Kennedy (uncredited)
Neighbor
Mom
Abigail, Catherine & Lauren Kinslow (uncredited)
Front Porch Decorators
Cameron Laskowski (uncredited)
Boy in church
Zali Laskowski (uncredited)
Girl in Church
Quentin Lathan (uncredited)
Black BBQ Restaurant Customer
Irvin Lewis (uncredited)
Neighbor (Walking in Street)
Kevin Machate (uncredited)
Doctor
James Mayberry (uncredited)
Churchgoer
Caroline McNeil (uncredited)
Neighbor
Kristin Miller (uncredited)
Nurse
Jogger
Shane Potter (uncredited)
BBQ Restaurant Patron
Elisabeth Raine (uncredited)
Sightseer
Tonya Roberts (uncredited)
Neighbor
Milo Stephenson (uncredited)
Young Michael
Blaze Tucker (uncredited)
Restaurant Patron
Deborah Wilson (uncredited)
Sightseer
Alison Young (uncredited)
Neighbor
External links
Community content is available under
CC-BY-SA
unless otherwise noted.