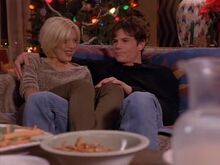 "Angels We Have Heard on High" is the fourth Christmas episode of the FOX sitcom Beverly Hills, 90210, aired in the show's sixth season.
Synopsis
Cindy surprises Brandon by coming to visit for Christmas. Her relationship with Jim is on the rocks, and she is unsure about returning to Hong Kong. Brandon feels devastated, as he fears that his family is falling apart. A special Christmas present from Jim squashes Cindy's doubts about his love, so she returns home. Colin begins using cocaine. Kelly is livid, as he had promised to give up the habit for good. Steve deliver Christmas presents to his boss' mistress and young niece. He gets fired wheh they receive the wrong gifts (the little girl gets a negligee), making the man's wife aware of his affair. Although someone else had switched the address labels, Rush blames Steve and lights into him. Steve angrily replies that Rush shouldn't worry about him, as they are not really father and son. When Steve meets Rush to apologize, his father makes a shocking revelation: he is Steve's biological father. He had an affair with a waitress, and decided to buy his baby to raise as his own. Steve is initially angry, but later expresses happiness and relief at solving the mystery of his parentage. Joe tries to keep an antsy Donna in suspense about her Christmas/birthday present.
Community content is available under
CC-BY-SA
unless otherwise noted.