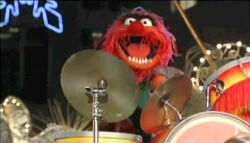 Animal is a character from the television series The Muppet Show. He is the show's drummer, performing with Dr. Teeth and the Electric Mayhem. Animal is a crazed percussionist with three styles of music -- loud, louder, and deafening. He speaks in a guttural shout, often repeating a few simple phrases, such as "BEAT DRUMS! BEAT DRUMS!" or "WO-MAN!" In relatively calmer moods, he is capable of more coherent conversation, but these instances are infrequent.
Animal made his first appearance in the 1975 pilot, The Muppet Show: Sex and Violence, chained up in a basement cell when he wasn't onstage performing with the Electric Mayhem. He later became a main character on The Muppet Show, and his unrestrained style has made him popular with young people for decades.
Appearances in Christmas specials
The Muppets
Other Christmas productions
External links
This article about a character from either a Christmas movie, television episodic series or special with a Christmas theme is a stub. Please help to expand this article in the Christmas Specials Wiki.
Community content is available under
CC-BY-SA
unless otherwise noted.