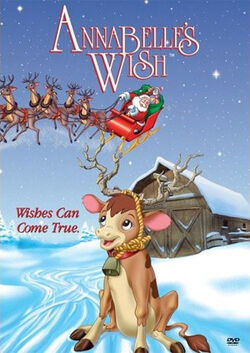 Annabelle's Wish is a 1997 animated Christmas special that revolves around a young calf who aspires to learn to fly and become one of Santa's reindeer. With Discover Card and American Airlines as corporate sponsors, it is narrated by Randy Travis and stars Jay Johnson, Jerry Van Dyke, Jim Varney, Rue McClanahan and Cloris Leachman, as well as veteran voice actress Kath Soucie. It was made for the Make A Wish Foundation. Proceeds from the video sales went to the charity. It aired on FOX, as a TV movie, shortly after its release on video. It also aired on ABC Family's 25 Days of Christmas in 2005. Animated at The Baer Animation Co, Inc, it has been nominated for a 1998 Golden Reel Award for Best Music Editing in a TV Movies of the week. It gave special thoughts to James Deering, Dan Henderson and Cherie Alexander, who have their wings and helped them fly.
Synopsis
The story is based on an old legend that Santa gives animals the ability to speak on Christmas. Annabelle is a calf born on Christmas Eve, who sees Santa's sleigh and dreams of becoming a reindeer and flying. It also follows the sacrifices she makes to help Billy, a mute boy who also lives on the farm.
Songs
Original Music Score Composed by Steve Dorff
In addition to those, one scene has someone singing a few lines of the chourus of Deck the Halls.
Cast
* - Nominated for a 1998 Young Artist Award for Best Voiceover Actress in a TV movie
Home media releases
External links
Community content is available under
CC-BY-SA
unless otherwise noted.