"Babies in Toyland" is the third and final Christmas episode of the Nickelodeon animated series Rugrats, aired in the show's ninth season. It was originally released as a direct-to-video special on September 24, 2002, before airing on YTV and Nickelodeon on December 12th of the same year.
Synopsis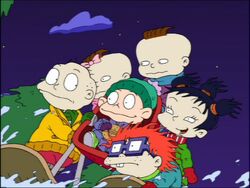 For Dil's very first Christmas, the babies and their families take a trip to a winter wonderland designed by Stu, complete with a mechanical snow making machine and Santa. Angelica confronts the actor playing him and acts so obnoxious that it causes him to quit, while the babies try to save the day. Meanwhile, Stu's snow making machine malfunctions and causes the adults to get trapped inside a makeshift log cabin.
Notes
Availability
The episode was first released directly-to-video on the Rugrats: Christmas VHS on September 24, 2002. The video also included the episodes "The Great Unknown", "Falling Stars", "Spike's Nightscare", and "Cuddle Bunny". The special was also included on the Nick Jr. Holiday DVD, released on the same day. It was later featured on the NickToons Christmas DVD in 2003, and on the second disc of the Rugrats Holiday Celebration DVD set in 2005. It was included on Amazon.com's Rugrats: The Best of Season 9 manufacture-on-demand DVD set in 2011 and later on the full Rugrats: Season 9 manufacture-on-demand DVD set in 2014.
Cast
See also
External links
Community content is available under
CC-BY-SA
unless otherwise noted.