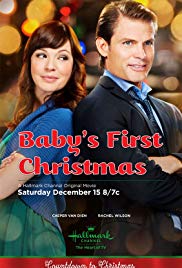 Baby's First Christmas is a Hallmark Channel original movie, starring Casper Van Dien, Rachel Wilson, Ella Ballentine, and Patrick Gallagher, that premiered on December 15, 2012.
Synopsis
In Los Angeles in 2005, Jenna and Kyle, two young lawyers at a prestigious law firm, butt heads as colleagues. A liberal lawyer concerned with global warming, Jenna just doesn't see eye-to-eye with Kyle, a designer-suit-wearing conservative and smooth-talker. Just when they can't stand each other any longer, Jenna announces she's moving to San Francisco to become an environmental lawyer. Both are relieved they'll never see each other again, but at the company Christmas party, their siblings, Trisha and Jim, shockingly hit it off.
In 2012, Jim and Trisha are married with a seven-year-old daughter, Karen, and living in New York. Trisha is nine months pregnant with her second child, a boy they are naming after Kyle and Trisha's father, Christopher. Jenna and Kyle are still feuding in-laws when they run into each other on their connecting flight to visit their siblings for the holidays. Stuck with a delayed flight at the Chicago airport, they decide to rent a car and drive to New York…
Cast
| Actor/actress | Character |
| --- | --- |
| Casper Van Dien | Kyle Davidson |
| Rachel Wilson | Jenna |
| Ella Ballentine | Karen Pendrell |
| Natalie Lisinska | Trisha |
| Noah Cappe | Jim Pendrell |
| Art Hindle | Christopher |
| Patrick Gallagher | Sal |
| Cedric Smith | Henry Kotter |
| Claire Riley | Doctor |
| Anthony Ulc | Butler |
| Martin Roach | NYPD Mountie |
| Alanis Peart | Intake Nurse |
| Renee Percy | Airline Desk Attendant |
| Viviana Zarrillo | Stolen Purse Lady |
| John D. Smith | Police Desk Attendant |
| Donna Belleville uncredited) | Ethel |
Ella Ballantine, who portrayed Karen Pendrell, was nominated for the 2013 Young Artist Award for Best Supporting TV Movie Actress.
External links
Community content is available under
CC-BY-SA
unless otherwise noted.