Barnard "Barney" Rubble
is a character from the
Hanna-Barbera
animated television series
The Flintstones
. He is the diminutive blonde-haired caveman husband of
Betty Rubble
and adoptive father of
Bamm-Bamm Rubble
. He is best friends with his next door neighbors,
Fred
and
Wilma Flintstone
. Barney has been with Fred on most if not all of his adventures (or misadventures), including the many
Christmas
outings the two families have had. In 2002, he and Fred were ranked #6 in
TV Guide
's Top 50 Greatest Cartoon Characters.
Appearances
The Flintstones
In the original series' Christmas episode, "Christmas Flintstone", Barney is shown accompanying Fred when he decides to apply for a part-time job at Macyrock's Department Store.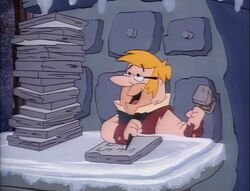 In A Flintstones' Christmas Carol, the next Flintstones Christmas production in chronological order, Barney portrays the roles of both Bob Cragit and Fezziwig in the Bedrock Community Theater's production of A Christmas Carol. Early on in the movie, he and Fred, who has the starring role of Ebonezer Scrooge, rehearse their lines, and Fred criticizes Barney for missing his cues and not doing as good a job at his acting. However, Barney is just as quick to point out that Fred's become so obsessed with his role that he's treating his family the same way Scrooge treated his friends.
At the beginning of A Flintstone Christmas, Barney donates change to all the Salvation Army Santas in downtown Bedrock, during which he sings "Which One is the Real Santa Claus?" Later, when he and Fred find the real Santa Claus having crashed in front of Fred's house, Barney suggests that Fred fill in for Santa this Christmas, with Barney assisting him, dressed as an elf.
The last chronological Flintstones Christmas special, A Flintstone Family Christmas, has Barney standing with Fred as a fellow grandfather as they celebrate Christmas with their married children, Pebbles and Bamm-Bamm, and their kids, Chip and Roxie.
Outside of the show itself, one memorable Fruity Pebbles commercial finds Barney attempting to once again steal Fred's breakfast cereal by disguising himself as Santa, only to find the real Santa is already there. Oddly, while Santa admonishes Fred for not sharing, he never addresses Barney's frequent attempts at larceny. A later commercial, parodying A Christmas Carol, has Barney, as the Ghost of Christmas Present, ordering Fred to share the cereal with him.
Other Christmas productions
Barney makes a cameo appearance along with Fred in Yogi Bear's All-Star Comedy Christmas Caper. Snagglepuss finds them working as street corner Santas who are collecting for the Water Buffalo Lodge's charity fund. When a prospective giver comes by, Fred and Barney attack Snagglepuss, subduing the "vicious lion," and thus garnering admiration and monetary largess.
External Links
Community content is available under
CC-BY-SA
unless otherwise noted.