Wiki Targeted (Entertainment)
Play Sound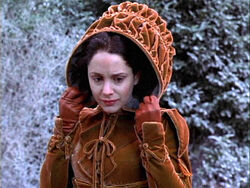 Belle is a character from Charles Dickens' novel A Christmas Carol. She is a prominent figure from Ebenezer Scrooge's past.
Role in the story
Belle appears during the sequence where The Ghost of Christmas Past is showing Scrooge his past. Here, we see that she was his fiancée, but she eventually broke off their engagement due to his growing obsession with money. Most adaptions depict them having met at an office Christmas party when he was working for Fezziwig.
In the original story, after showing Scrooge the day he and Belle broke up, the Ghost also shows him that she eventually married and found happiness with another man; this scene is often skipped in the adaptations.
Portrayals
Picture
Performer
Production
Year
Note

Rona Anderson
Scrooge
1951
This version of the character is named Alice.

Shelby Flint
The Stingiest Man in Town
1978

Daisy Duck
(voiced by Patricia Parris)
Mickey's Christmas Carol
1983
This version of the character is named Isabel.

Lucy Gutteridge
A Christmas Carol
1984
This adaptation notably keeps the scene showing Belle with her family after she left Scrooge.

Meredith Braun
The Muppet Christmas Carol
1992

Wilma Flintstone
(voiced by Jean Vander Pyl)
A Flintstones' Christmas Carol
1994
The part of Belle is originally given to a woman named Maggie. However, Maggie catches the Bedrock Bug before she can perform, so Wilma portrays the role instead. Later, Wilma fills in for one of the actors playing the charity workers after said actor also gets sick, resulting in a completely ad-libbed scene where Scrooge (played by Fred) tells Belle that he's learned the error of his ways.

Jodi Benson
A Christmas Carol
1997

Angeline Ball
A Christmas Carol
2000
In this movie, she's called Bella she's the love interest of Eddie Scrooge, at the end she finally marry him and a son named Marley with him.

Kate Winslet
Christmas Carol: The Movie
2001
In the movie, she's a nurse, but does not marry another man and have children with him after breaking up with Scrooge. She reunites her friendship with him after he encountered Jacob Marley's ghost and the three spirits. In fact, Scrooge gives a few of his money to her for the patients (especially children) all around London.

Robin Wright Penn
Disney's A Christmas Carol
2009
Robin Wright Penn also plays Fan (Scrooge's sister) in this film.
External Links