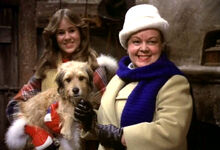 Benji's Very Own Christmas Story is a 1978 ABC TV special, featuring Benji the dog from his franchise created by Joe Camp and his Mulberry Square Productions company. It premiered in prime-time on December 7, 1978. As the first TV outing for Benji, the rights of its franchise is currently handled by NBCUniversal.
Summary
Benji and the actresses from the franchise are on a promotional tour in Switzerland and are asked to be grand marshalls of a Christmas parade in Zermatt. Due to a broken leg, Kris Kringle is sending his elves out to deliver presents, and as this will force them to miss the parade he wants them to meet Benji first. With help from the Benji actresses, Kringle realizes the true meaning of Christmas and performs a musical number showing how Saint Nicholas appears all over the world.
Cast
Actor/actress
Character
Ron Moody
Kris Kringle
Patsy Garrett
Herself
Cindy Smith
Herself
Benjean (Dog)
Benji
Uncredited actresses/actors
Sadie Corre
Pins
Marcus Powell
Needles
Deep Roy
Key Elf
Cindy Smith was nominated for the 1980 Young Artist Award for Best Juvenile Movie Actress.
Awards
Nominee - 1979 Primetime Emmy Award for Best Children's Program (Joe Camp - Producer)
Nominee - 1980 Young Artist Award for Best Youth Special
External links
Community content is available under
CC-BY-SA
unless otherwise noted.