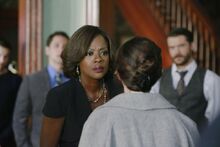 Best Christmas Ever is the Christmas episode of How to Get Away with Murder that debuted on ABC on February 5, 2015.
Plot
Annalise's sister-in-law, Hannah Keating, arrives in Middleton, desperate for answers about Sam's supposed disappearance. Aggravated by Hannah's disdain for her, Annalise avoids her and instead focuses on the case of Jackie Wilson, a woman whose husband has sexually abused her and the two young women in their basement. While Wes, Connor, Laurel, Michaela and Asher are morally outraged in defending her, Annalise and Bonnie stand by Jackie to get her a plea deal. Laurel confides in Frank that she's starting to get nervous about their coverup, especially due to the abundance of forensic evidence left in Connor's SUV, and so whilst Connor spends time with Oliver, Frank steals the car and destroys it. It soon comes to light that Jackie is no innocent victim, and that she stole the apparently stillborn child of one of the detainees, and is secretly raising the child. Annalise then drops the case and betrays Jackie, leaving her to serve a lengthy jail term for her crimes. Meanwhile Hannah, who has been stalking Annalise, confronts her and demands Annalise tell her the truth of Sam's disappearance. Annalise admits to lying to the police about Sam's affair with Lila, but claims to know nothing of Sam's whereabouts, and this seems to satisfy Hannah's doggedness for answers. Wes returns home to live news coverage that Sam's remains have been identified in the bin where Connor dumped the body.
Flashback: Over the Christmas break, many of the characters suffered emotionally after the murder night. Annalise locked herself in a hotel room, drinking copious amounts of vodka each day; Wes cannot sleep without being awoken by vivid and terrifying nightmares; Connor comes to realize that he wants to be with Oliver; Michaela's fiance postpones the wedding; and Laurel was kicked out of her parents' home over the break.
Community content is available under
CC-BY-SA
unless otherwise noted.