Big Bird is a character from the children's television show Sesame Street. As his name suggests, he is an 8-foot, 2-inch friendly yellow bird who lives in a nest on Sesame Street with a slightly quirky and naive outlook on the world. He can roller skate, ice skate, dance, sing, write poetry, draw, and even ride a unicycle. In spite of this wide array of talents, he is also prone to frequent misunderstandings, like thinking that the alphabet is one long word. As one of the main characters from the show, he has managed to appear in all of the Christmas specials spun off from it.
Appearances
Sesame Street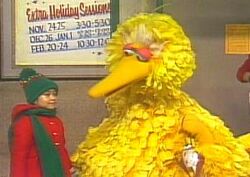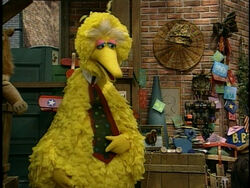 Elmo Saves Christmas - Big Bird's subplot in this 1996 special begins with him seeing off his best friend, Mr. Snuffleupagus, when he travels to Cincinnati to visit his grandmother for Christmas. However, when Elmo wishes that every day was Christmas, Snuffy is unable to come home for Christmas, and Big Bird becomes depressed about not being able to see his pal again. After Elmo's wish is undone, Big Bird gets a surprise on Christmas morning - just as Snuffy was about to leave, his grandmother came to visit him for Christmas instead!
Other Christmas productions
A Muppet Family Christmas - Big Bird and his fellow Sesame Street Muppets join Kermit and his Muppet Show costars at Fozzie's mother's farmhouse for Christmas. The Christmas Turkey, in an attempt to avoid being cooked, convinces The Swedish Chef that Big Bird would make an even better Christmas dinner, so the Chef invites him into the kitchen. Big Bird, naively unaware of the Chef's intention to cook him, gives him a handful of homemade chocolate-covered birdseed; the Chef is touched by this gift, and after they sing "The Christmas Song", the Chef decides to serve shredded wheat and cranberry sauce for dinner instead.
Christmas with the Mormon Tabernacle Choir - Big Bird and several of his costars made a special guest appearance at the 2014 concert.
External links
This article about a character from either a Christmas movie, television episodic series or special with a Christmas theme is a stub. Please help to expand this article in the Christmas Specials Wiki.
Community content is available under
CC-BY-SA
unless otherwise noted.