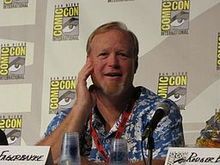 Bill Fagerbakke (born October 4, 1957) is an American actor and voice actor best known for his long-running roles as Patrick Star in the animated series SpongeBob SquarePants, Broadway on Disney's Gargoyles, and Michael "Dauber" Dybinski on the sitcom Coach.
Christmas filmography
Live-action
Animation
External links
This page about a Christmas special or an episode from a television series with a Christmas theme is a stub. Please help the Christmas Special Wiki by expanding this article.