"Bob's White Christmas" is the 45-minute special Christmas-themed episode of CBeebies' stop-mo puppet show Bob the Builder, produced and aired as the thirteenth episode of its second season.
Synopsis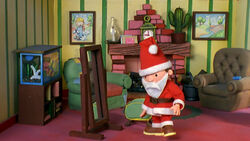 The episode starts at Bob's house with an excited Dizzy saying that it was Christmas Eve. Bob walks in with the Christmas decorations showing the machines. They were happy to see them. He then tells him that it was time to decorate for the holidays. Wendy then drops in with a tree with Scoop and everyone was happy. While Bob decorates with Wendy, Dizzy says that she wishes for some snow. Wendy tells him that the weather report on the television said that it might snow this year. She then hears the phone ringing, and she starts to go inside. Wendy later starts to tell Bob about Mrs. Percival. They all start to explain about Father Christmas. Meanwhile, Bob, Wendy, and the machines start to finish the tree, when suddenly, the snow starts to fall.
Later, they were finished with the Christmas tree, and the machines start to have a snowball fight. Wendy starts to suggest that they should build a snowman, and they do. Suddenly, she starts to tell Bob that Farmer Pickles was completely snowed in, and they needed him to dig it out.
Meanwhile, Bob digs out the snow with Scoop. Later with Dizzy, she tries to give Bob the cell phone that he forgot to bring. It was really cold so she cuts across the field.
Later, Spud sees Dizzy all covered in snow, and gets scared of it thinking that it was a snow monster. He was really scared so he runs away.
After when Bob and Scoop finish digging up the snow, they see Spud scared telling them about a snow monster. When, they got to the snow monster, they find out that the snow monster was actually Dizzy. She tells him that he forgot his cell phone.
Back at home, Bob dresses himself up as Father Christmas, and Wendy turns Muck into a sleigh and Dizzy into a reindeer.
While being as Father Christmas, he gives Mrs. Percival the toys, and leaves. After when Spud puts his stocking up, Bob, Muck, and Dizzy never notice him.
The episode's ending takes place the next morning, Christmas Day, in which the machines wake up and find out that Father Christmas left presents out for them, ending the special.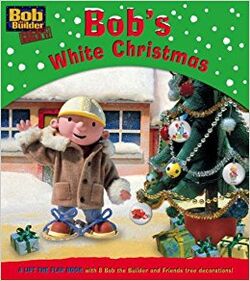 Availability
Cast
Voice actor/actress
Character(s)
Neil Morrissey (UK)
Bob
Lofty
Roley
Farmer Pickles
Rob Rackstraw (UK)
Scoop
Muck
Spud
Kate Harbour (UK)
Wendy
Dizzy
Mrs. Percival
Lachele Carl (U.S.)
Muck
Maria Darling (U.S.)
Roley
Dizzy
William Dufris (U.S.)
Bob
Farmer Pickles
Lorelei King (U.S.)
Wendy
Mrs. Percival
Sonya Leite (U.S.)
Lofty
Alan Marriott (U.S.)
Scoop
Spud
External link
Community content is available under
CC-BY-SA
unless otherwise noted.