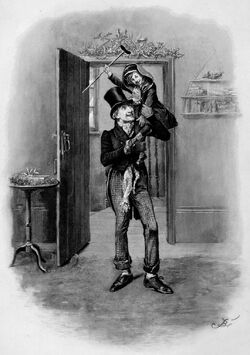 "
To Mister Scrooge, the founder of the feast!
"

— Bob, showing that his employer's poor spirit cannot diminish his own
Robert "Bob" Cratchit is the abused, underpaid clerk of Ebenezer Scrooge in the Charles Dickens story A Christmas Carol.
In the story, Cratchit is first seen at work, where he copies letters by hand in an underheated "dismal little cell", "a sort of tank". He is repeatedly described as "little" and clothes himself in a tattered white comforter, since he cannot afford a coat. Cratchit is treated poorly by Scrooge and given a weekly salary of "but fifteen bob", insufficient to feed his family a proper Christmas dinner. Nevertheless, he remains loyal to his employer, even in face of the protestations of his wife.
Scrooge invisibly visits Cratchit and his family in their small Camden Town home on Christmas Day as well as on a future Christmas. He is accompanied on these visits by the Ghost of Christmas Present and the Ghost of Christmas Yet to Come, respectively. It is partly through concern for the plight of Cratchit's youngest son, the frail and crippled Tiny Tim, that Scrooge makes the transformation from miser to philanthropist, offering Cratchit a raise and "discussion of his affairs".
An interesting point of departure for adaptations of the story is whether or not Scrooge's final joyful encounter with Bob occurs with his family on Christmas Day itself, or, keeping to the novel, on the morning of the 26th at the counting-house. Many presentations opt to go with the Christmas Day meeting, presumably to give more visible closure to the family's story and actually see them all happy for their new good fortune. This may also provide a "show, don't tell" moment for the described future bond between the former miser and Tiny Tim.
Children
Six Cratchit children are mentioned in the original story, four of whom are named:
Martha, the eldest daughter, who works as an apprentice at a milliner's
Belinda, the second daughter
Peter, the heir, for whom his father is arranging employment at the weekly rate of 5 shillings sixpence
An unnamed younger son
An unnamed younger daughter
Tiny Tim, the invalid youngest son
Portrayals
Community content is available under
CC-BY-SA
unless otherwise noted.