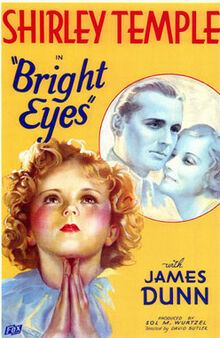 Bright Eyes is a 1934 classic film. It stars Shirley Temple as Shirley Blake. Although this is not strictly a Christmas film, some of the scenes concern this holiday. In fact, one scene takes place on exactly that day. It's Temple's only film in which her character's first name is the same as the her own. It was colorized in the 2000s. In February 1935, she received a special Academy Award for her 1934 contributions to it.
Plot
5-year-old Shirley Blake (Temple) and her mother, Mary (Lois Wilson), a maid, live in the home of her employers, the rich and mean-spirited Smythe family, Anita (Dorothy Christy), J. Wellington (Theodore von Eltz), and Joy (Jane Withers). Shirley's aviator father died in an airplane crash before the film opens, and she now spends most of her time at the Glendale, California airport with her godfather, bachelor pilot James "Loop" Merritt (James Dunn), and his dog, Rags. After Christmas morning she hitches a ride to the airport. The aviators bring her aboard a ship and taxi her around the runways, where she serenades them with her rendition of "On the Good Ship Lollipop".
Mary is killed in a traffic accident. When Loop hears about this he takes Shirley up in an airplane, explains that she is in Heaven, and that her mother is also there. When the Smythes learn of Mary's death they make plans to send Shirley to an orphanage. However, Uncle Ned (Charles Sellon), the cranky patriarch of the Smythes, who uses a wheelchair, is fond of little "Bright Eyes" (as he calls her) and insists that she remain in the house. His relatives grudgingly comply with his wishes, although they make her feel unwelcome. A custody battle for her ensues between Loop and Uncle Ned. In order to raise attorney fees, Loop reluctantly accepts a lucrative contract to deliver an item by plane, cross-country to New York during a dangerous storm. Unbeknown to him, Shirley had left the Smythes' home, found his airplane at the airport, and stowed away inside it. When it loses control in the storm in the wilderness, they parachute to ground together and are eventually rescued safely. The impasse over custody is resolved when Loop, his fiancée, Adele (Judith Allen), Uncle Ned, and Shirley all decide to live together.
Songs
On the Good Ship Lollipop (1934) (uncredited)
Music by Richard A. Whiting Lyrics by Sidney Clare
Silent Night (1818) (uncredited)
Music by Franz Gruber Lyrics by Joseph Mohr
The Man on the Flying Trapeze (1867) (uncredited)
Music by Gaston Lyle Lyrics by George Leybourne Sung a cappella by Charles Sellon
Jingle Bells (1857) (uncredited)
Music by James Pierpont
Community content is available under
CC-BY-SA
unless otherwise noted.